Do you need any makeup tips to apply makeup like a pro? Two weeks ago we asked you to send us your toughest makeup and beauty questions as we got professional makeup artist Denise Rabor, Founder of Wow Beauty to answer them.
She has been an international makeup artist for over 15 years and she is as mad about beauty now as she was when she started. She really knows her makeup and beauty tricks.
I can't help myself, I love beauty and makeup products – I just love the power of makeup to enhance, to transform, to empower …it's wonderful to see someone's confidence grow simply because they feel good about how they look.
Denise has a super busy schedule, however, she has taken some time to share with us her beauty secrets and makeup tips. Every week Denise will answer 3 of your questions. So be prepared to become a beauty and makeup pro. By the way, she loved all of your questions.
Get great makeup tips by a makeup artist
Reader Question: I am a beginner, I would like to know how to contour and highlight like a pro?

Denise Rabor: Contouring and highlighting has sent the make up world into overdrive this year and is here to stay. Not only does it accentuate and highlight facial features but it also sculpts the face, meaning it can varied from an extreme contour look to a more subtle, soft look. Best of all it doesn't have to be complicated; for basic contouring you'll need an angled brush and either a cream or powder blusher that is a shade or two darker than your skin tone. Look at yourself in the mirror so that you can see the area of your face that you wish to define, so if you want to create cheekbones, apply the blusher to the hollows of the cheek, and blend towards the ear. Do not overdo it.
Next use apply your regular blusher to the apple of your cheek and blend. To highlight look in the mirror to see where the light hits your face, usually the top of the cheekbones and the temples. This is where you want to lightly apply your highlighter and remember, less is more.
Reader Question: Do I have to use a primer? What do you do to keep your make up look fresh and not dry? Do you have any makeup tips for me?


Denise Rabor: No, you don't have to use a primer, however they are gaining in popularity because they are great at creating an even skin tone, creating a matte base, reducing the appearance of pores or wrinkles and simply creating a long lasting smooth base for your make-up. A good primer actually helps your makeup to perform better by going on easier and lasting longer, consequently your makeup will look & feel fresher all day.
1. Black up perfect mattifying primer – 2. Bare minerals Prime time foundation primer
Oh yes, Pin this for future reference!
If you don't use a primer another way to keep your makeup fresh is to use a makeup setting spray or to carry a water atomiser in your bag to spritz your face with …this is a great way of freshening your makeup.
Reader Question: Do you have a beauty tip for oily skin and how can I protect my skin during the colder days?

Denise Rabor: Oily and combination skins need just as much care as other skin types. It's really important to use the right cleanser for your skin and generally the choices are: foaming cleansers, cleansing bars, cleansing lotions etc…remember that oily skins can be sensitive, so it's important not to over cleanse or over exfoliate, as this can strip the skin of its natural protective oils and over stimulation can cause it to react by producing more oil. With the change of season It's the perfect time to switch up your skin care products.
Look into layering, so after cleansing you'd apply a serum suitable for oily skin, then your moisturiser. It's easy to forget that oily skins can be dehydrated and often need a moisture boost. Like all skin types it can suffer from the effects of central heating.
Great Serums are: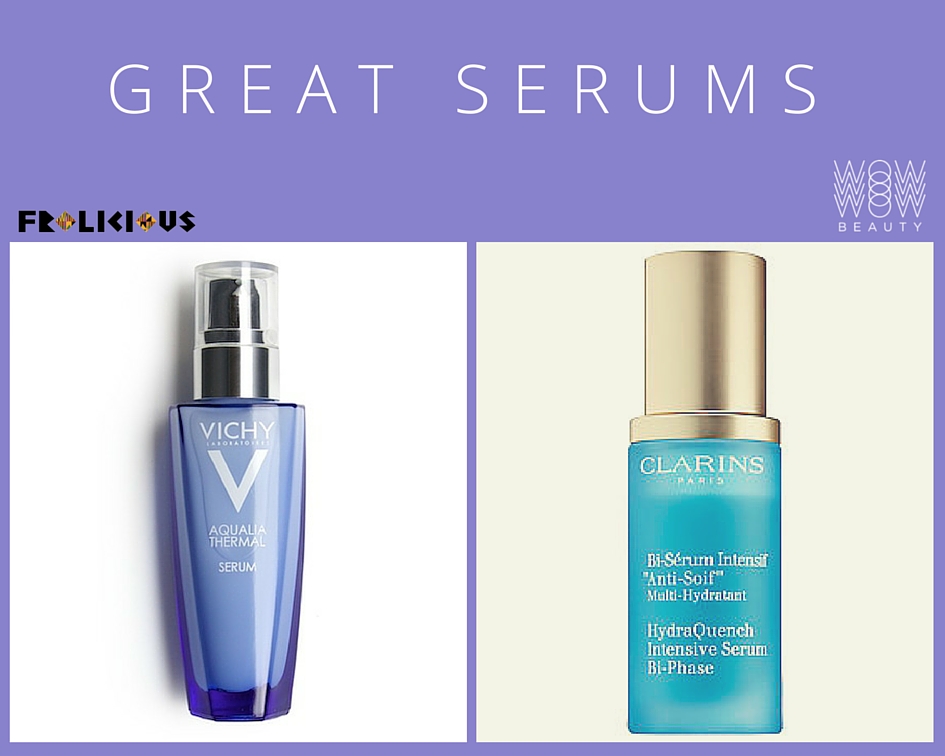 Denise has tried the Vichy Aqualia Thermal Dynamic Hydration Power Serum. Read her review here.
Moisturiser for combination/oily skin are:
We have collected your questions over the last two weeks and we will addressed and discuss a lot of them. Next Q +A will take place on Friday, 9th of October on Frolicious. SAVE THE DATE ! I am super happy to have Denise Rabor answer our questions. So if you're a beginner like me – you'll love this. Sign up for our Newsletter we will keep you updated.
You would like to know more about Wow Beauty? Here you go :)
Wow Beauty is an online platform which is the brainchild of internationally renowned make up artist, Denise Rabor. She worked with major publications such as Harper's Bazaar, Vogue, ELLE & Vanity Fair along with top models. Wow Beauty aims to inspire you, to motivate you, to celebrate YOU!

More Information:
Website: http://w-o-wbeauty.com/
Instagram: https://instagram.com/wowbeaute/