"The whole world has started to notice African fashion"
Backpacks by Suave Kenya Limited are stylish and unique as they don't use a fabric twice. They make Backpacks out of your old coats.One of the co-owners Mohamed Awale, a young indie-entrepreneur, has taken some time to talk with us about Suave, the brand from Nairobi (Kenya, Africa).
In Conversation with Suave Kenya
Frolicious: Please introduce yourself and tell us what Suave means?
Suave Kenya: My name is Mohamed Awale from Kenya. I am one of the co-owners of Suave Kenya Limited. A company that makes Backpacks, bags and accessories from up-cycled materials and locally sourced African fabrics. Suave basically means sophisticated, classy & urban. That's what we want to bring out with our Backpack and bags. When you wear it, you feel like you're sophisticated.
I developed a passion for bags when I was in university and at that time my cousin brother had a leather workshop dealing with leather accessories which he sold locally. I used to go to him with designs of backpacks and bags that I wanted done and he used to make them for me. This went on until I graduated in August 2012. Unfortunately, he closed the workshop the same year because he wanted to concentrate on making shoes only and he urged me to take up the business and continue with it.
I did not have any capital at that time so I started looking for a job that would finance it. In January 2013 I got a job with an oil company and I started saving up. By March I had enough cash so we went ahead and got a place and two staff and we started off creating backpacks! Three months down the line I quit my job and fully focused on the company.
Frolicious: Do you have a specific research process when you start a new backpack?
Suave Kenya: No, we don't have any specific research process. We basically make thing that we would love to have and introduce it to the people. And depending on the general reaction of people, we would continue with its production or stop.
That was the case with our Messenger bags and backpacks. We made our first batch of backpacks
from up-cycled materials in this case used coats from the local thrift market. The outcome was amazing but we started improving them as per the feedback we would get from friends and the few clients that bought the bags. The next ones were the backpack which we mixed with African fabric and we immediately knew we had something big going on for us.
Frolicious: Do you think that there is a movement regarding African fabric at the moment?
Suave Kenya: Yes there is a big movement regarding the African fabric. The whole world has started to notice African fashion and the fabrics behind it. And since people are going for unique looks, the African fabric gives them just that; something totally different from the norm.
Frolicious: What are you fascinated by at the moment and how does it feed into your work?
Suave Kenya: I'm fascinated with colour and patterns. And a combo of both is a killer for me. That's why mixing the one-off fabrics I get from the thrift market with the African fabrics really work for us.
Frolicious: What is the biggest lesson that you have learned since you started your label?
Suave Kenya: Biggest lesson I've learnt since we started would be perseverance because had it not been for that we would have closed shop a long time ago. So that and the passion for the job is what got us this far and all I can say for that is it's totally worth every bit if it!!
Frolicious Where do you see yourself in 5 years?
Suave Kenya: We see ourselves as a regional brand with our own stores in the East African region together with stockists in all the continents. Basically we want to be able to have the backpacks and bags available to the whole world in a small big way.
Frolicious: What advice would you give to young designers?
Suave Kenya: My advice to young designers would be to follow their passion and not give up on it. To do something they love because with that, you'll give it everything you've got and more to make it work. And that's exactly what it takes to make something/anything work. Dedication and the ability to re-do it even after you've failed a few times before…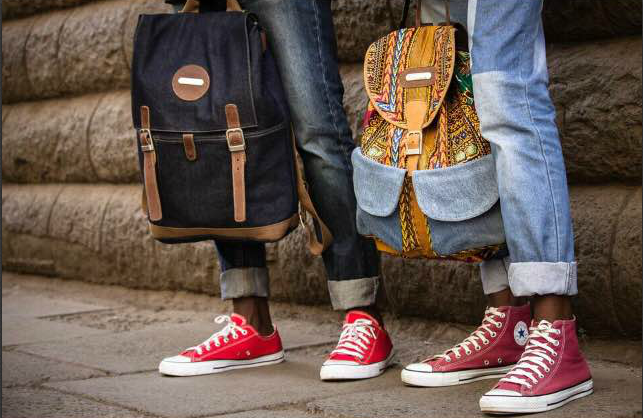 Explore Suave Kenya here
Facebook: www.facebook.com/suaveKe
Instagram: https://instagram.com/suave_ke/
Credits:
Styling: Brian Emry
Photographer: Joseph Baraza (purple vase photography)
Models: Gicheru Alvin, Kamau Deloys, Brian Onyango