Have you ever use onion juice for hair growth? If not you should give it a chance. I am not going to lie, growing you hair does require patience. However using hair growth stimulating ingredients like onion juice can help to boost the rate at which your hair grows. In this blog post, I have put together several stunning ways to use onion juice to boost hair growth. But first, let's look at how onion juice helps your hair.
Benefits Of Onion Juice For Hair Growth
5 months after I gave birth to my son I was caught by surprise with the amount of hair I was losing. To be honest with you I was shocked. My natural hair was coming out in the shower, while detangling or styling it. It was a dramatic change for me. I was not able to prevent the hair from falling. So I came up with this plan:
Our hair is made up of a protein called keratin that is produced in the hair follicles. As follicles produce new hair cells, old cells are being pushed out through the surface of the skin at the rate of about six inches a year. The hair that you can see is actually a string of dead keratin cells. We loses up to 100 hair strands a day. But how does onion juices increases healthy hair growth?
Onion juice has been used for centuries to help with thinning hair. Here are some reasons behind what makes this ingredient so effective:
Onion juice helps improve healthy hair growth by restoring lost nutrients to your scalp.
It is rich in sulphur, which is known to improve hair growth and minimize breakage and thinning.
The antioxidants help reverse premature graying and delay graying.
Onion's rich antibacterial properties help fight infections of the scalp which can cause massive hair loss.
Onion juice stimulates your scalp and improves the circulation of blood, resulting in it follicles that are well-nourished.
This vegetable lends a healthy shine to hair, which can become permanent when used regularly.
Onion juice can be used to fight dandruff.
Using onion juice is a sure method to boosting hair growth and promoting hair regrowth. I have used onion juice for hair growth before giving birth to my son with noticeable before and after results.
How To Use Onion Juice For Hair Growth
Take two to four onions
Peel the onions and cut them into slices
Blend these pieces in a juicer or blender
Use a cheesecloth to filter the juice
This will ensure that no onion chunks are stuck in your hair while you use the onion juice
Before using it perform a patch test before to prevent any allergic reactions. You can also purchase onion juice online, if you don't have the time to make it. Just keep in mind that fresh onion juice is better than the preserved one. If you purchase it by using my link, I will get a small commission. Thank you in advance.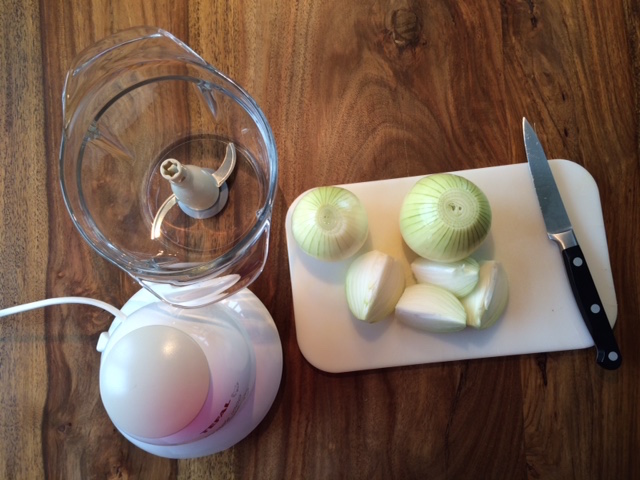 How To Apply The Onion Juice For Hair Growth On Your Hair
1. Onion Juice
Wet your hair and part it in 4 or more sections.
Now apply the onion juice on your scalp.
Gently massage it into your scalp using.
Let it sit for 30 minutes under a plastic cap and then rinse it off.
Wash your hair with a sulfate-free shampoo.
Apply a conditioner afterwards and rinse it out.
Now, style your hair as desired.
2. Honey and Onion Juice For Hair Growth
Take the juice of two onions
Mix one tablespoon of honey in this juice
Apply this mixture on your scalp and hair roots
Wash it after 30 mins with a sulfate-free shampoo
3. Onion Juice Hair Rinse For Hair Growth
Chop about 4 to 5 onions
Add it to a liter of water and boil for about 15 minutes.
Allow it to cool, strain it
Shampoo your hair with a sulfate-free shampoo
Use this mixture to rinse your hair after shampooing.
4. Onion Juice and Coconut Oil For Hair Growth
Coconut oil has amazing antibacterial properties. It is also an extremely penetrative oil which will help boost the onion juice's ability to nourish your scalp.
Mix 2 tablespoons onion juice and 2 tablespoons coconut oil
Apply this hair mask on your scalp
Wash it after 30 mins with a sulfate-free shampoo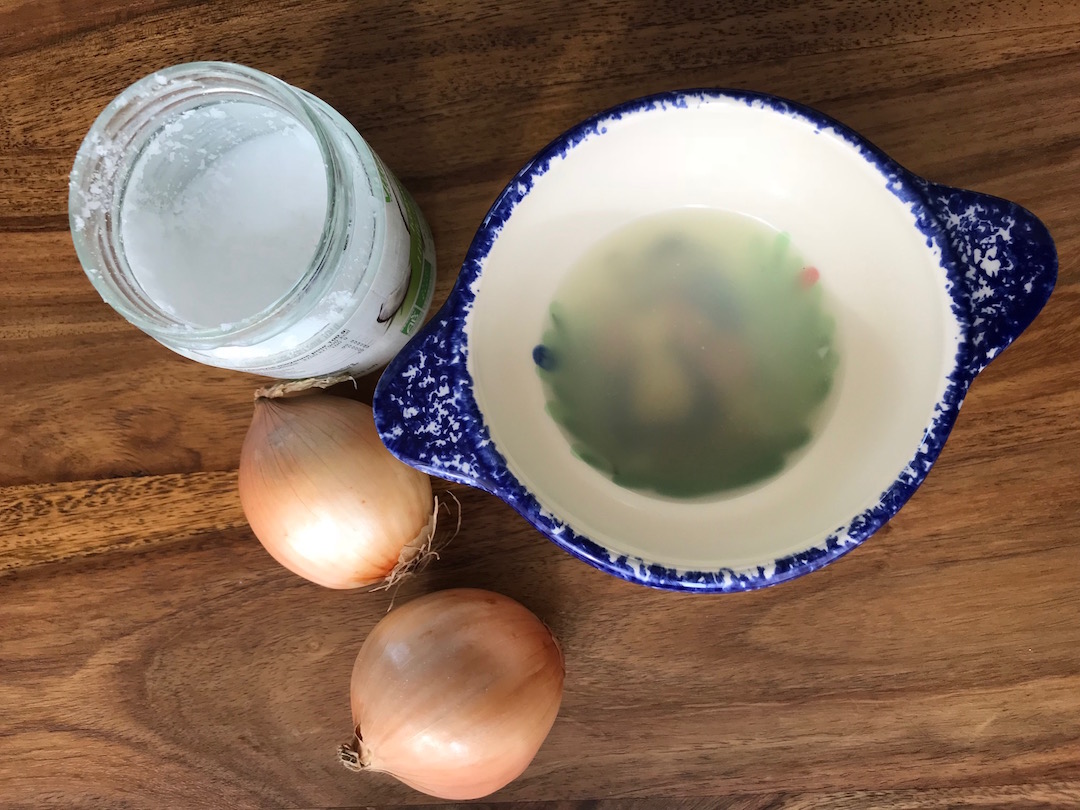 5. Olive Oil and Onion Juice For Hair Growth
Olive oil is a great oil that penetrates your scalp and nourishes it. Olive oil also has anti-dandruff properties and hence is an added bonus!
Take 3 tablespoons of onion juice
Add 2 tablespoons of olive oil in it
Massage this mixture in your scalp
Wash it after 30 mins with a sulfate-free shampoo
6. Onion Juice and Yoghurt For Hair Growth
Yogurt helps fight hair fall and when added with onion juice, helps in the hair growth process.
Mix 2 tablespoons of yogurt and 2 tablespoons onion juice in a bowl.
Apply this hair mask on your scalp
Wash it after 30 mins with a sulfate-free shampoo
7. Onion Juice and Garlic For Hair Growth
Garlic is an abundant source of minerals such as calcium, sulfur, and zinc, all of which are essential for hair growth. In combination with onion juice, it helps improve the rate at which your hair is growing while also thickening your natural hair.
Mix 1 tablespoon onion juice, 1 teaspoon garlic juice and 1 teaspoon olive oil
Apply this hair mixture on your scalp
Wash it after 30 mins with a sulfate-free shampoo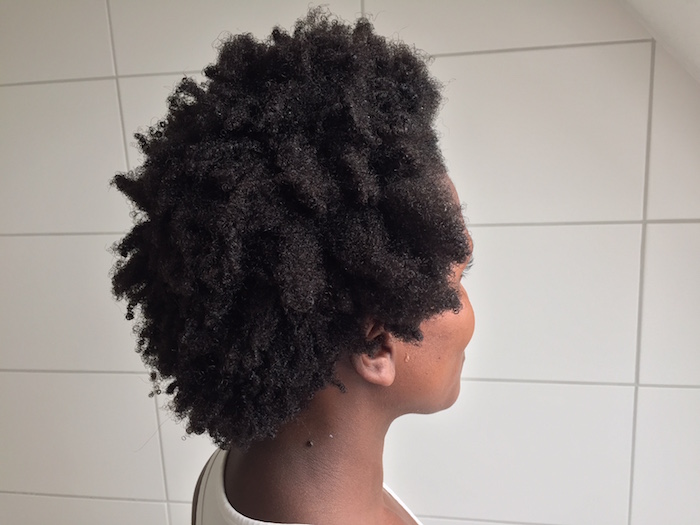 8. Onion Juice and Potato For Hair Growth
Potato juice is another ingredient which is well known for its growth-boosting properties. It is an abundant source of nutrients such as vitamins B and C, and the minerals iron, zinc, and niacin. It helps nourish your follicles, ensuring that your hair grows out healthy.
Mix 1 tablespoon onion juice and 2 tablespoon potato juice
Apply this hair mixture on your scalp
Wash it after 10 mins with a sulfate-free shampoo
How Do You Remove The Onion Smell From Your Hair?
To be honest with you my hair does not smell anymore, when they are dry. However, if you have the feeling that your hair smells you can also add a few drops of any of your favorite essential oils in the juice. Furthermore the onion juice treatment including yoghurt does not smell at all. Another great tip is to follow up the onion treatments with a citrus hair rinse (2 tablespoon for one liter water). Pour this solution through your hair at the end of your shower.
When applying the onion juice on my hair, I always cry but not anymore after putting my plastic cap on. You also need to open the window afterwards. These tips will help you to get rid off the onion smell.
How Does Your Hair Feel After The Onion Juice Treatment?
My hair always feels very soft and strong after the treatment. In addition to this, the finger detangling process is super short. I believe the picture above shows how soft my hair is after washing the onion juice treatment out.
Can Onion Juice Be Left On Hair Overnight?
I recommend the standard DIY methods which keeps onion juice on the hair, for not more than 30 minutes. I won't do it overnight. I wash the onion juice treatment out when I feel a slight tingling.
How Long Does Onion Juice Last In the Fridge?
It is recommended to use fresh onion juice on every application. However, some people store it in the refrigerator up to 3-5 days.
///
I believe with a great natural hair care routine in place you well see some great results. Have you ever used onion juice in your hair care routine? I would love to hear about your experience in the comments section below.
*This blog post contains affiliate links.