At Frolicious, we are committed to using and recommending products that are not only organic but also work like a dream. That's why we are so excited to introduce you to our new hair care line – ŌMAKA (made in Germany – we ship world wide). From refreshing Aloe Vera Splash to moisturizing conditioner to solid shampoo bars for a plastic free hair wash, our organic, sustainable hair care line is exactly what your hair has been craving.
What is ŌMAKA?
ŌMAKA is named after a Hawaiian word and means "A New Begining". After 7 years of blogging and reviewing other hair care brands, we decided to create our own line of natural hair care products specifically designed for the needs of Afro and curly hair. Since March 2020, ŌMAKA has dedicated to creating vegan, organic certified products formulated with highest quality ingredients that are effective for you to use. All of ŌMAKA products are created without silicones, parabens, mineral oil or any other chemicals that are toxic.
Why you should try ŌMAKA?
You know how often especially women with natural hair get frustrated when it comes to taking care of natural curly hair? Well, if you can relate then let me tell you what ŌMAKA does. At ŌMAKA we help you to discover your beautiful curly hair by providing you organic multi-talented hair care products. In fact, just last week one of our dear customers wrote us how much ŌMAKA has changed her life. She told us that she even has more life quality now due to our products. She is not hiding her beautiful curly hair anymore.
ŌMAKA and the Environment
ŌMAKA stands apart from many other natural hair care brands because of our pledge to honor and protect the environment. At ŌMAKA we use sustainable material in the field of self-adhesive labels; these are labels which are made of grass paper. They are environmentally friendly and needs less water and energy to be produced. Moreover, we use vegan glue and ink pad. To offset our CO2 emissions we decided to work with a partner who uses renewable energy from the sun to print out our gras paper labels. Every product of ŌMAKA is vegan and developed with clean energy. That's not all, though. Our dedication to sustainability extends to our packaging as well. The packaging for the conditioner is made from recyclable materials. At ŌMAKA we recycle cartons like children shoe cartons by reusing them to send out orders.
ŌMAKA – Introducing our new hair care line
Tadaaaaa….Now let me introduce you to ŌMAKA. It was a long journey and finally they have arrived and are ready to bring you joyfully curly hair.
First sustainable shampoo bar for Afro hair – ŌMAKA / 50g for 8,95 Euros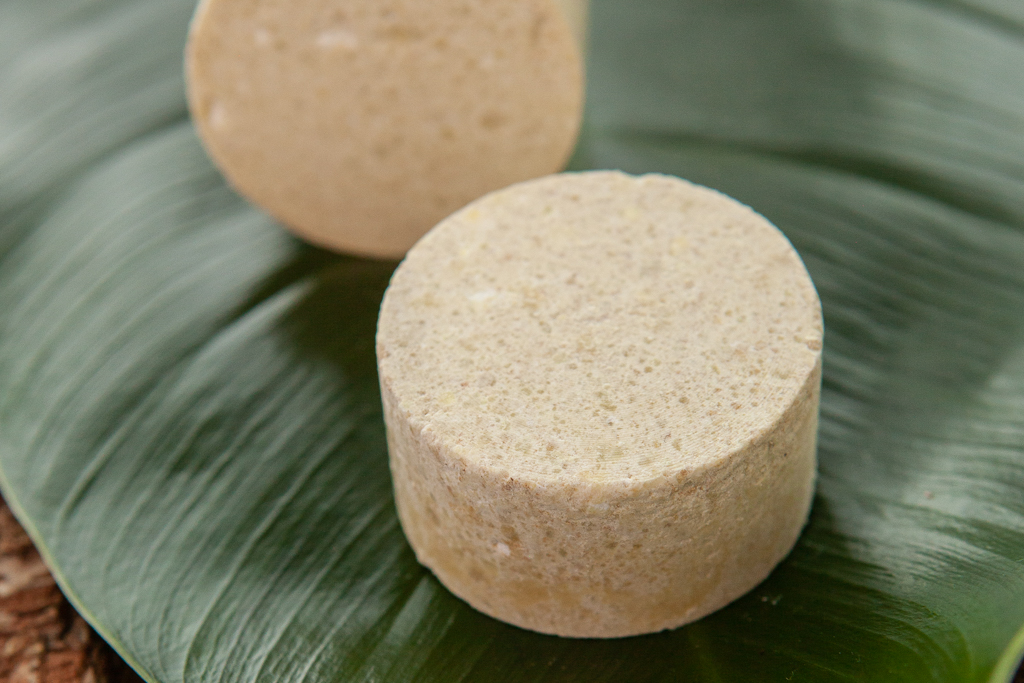 This shampoo bar smells nice. The organic shampoo bar is suitable for dry curly hair and provides volume, grip and leaves a light hair feeling. What will blew you away is the fresh scent of orange. This shampoo bar contains high-quality ingredients like organic Broccoli seed oil, organic Moringa seed oil and organic Shea butter.
Aloe Vera Splash – ŌMAKA / 100ml for 12,95 Euros
You already know Aloe Vera is one of nature's greatest healing gifts! This multi-talented Aloe Very Spray can be used als a refresher for your hair, body and face. We only add natural and minimal ingredients to the Splash. It absorbs rapidly as it is not a gel.
Organic Argan oil – ŌMAKA / 100ml for 15,90 Euros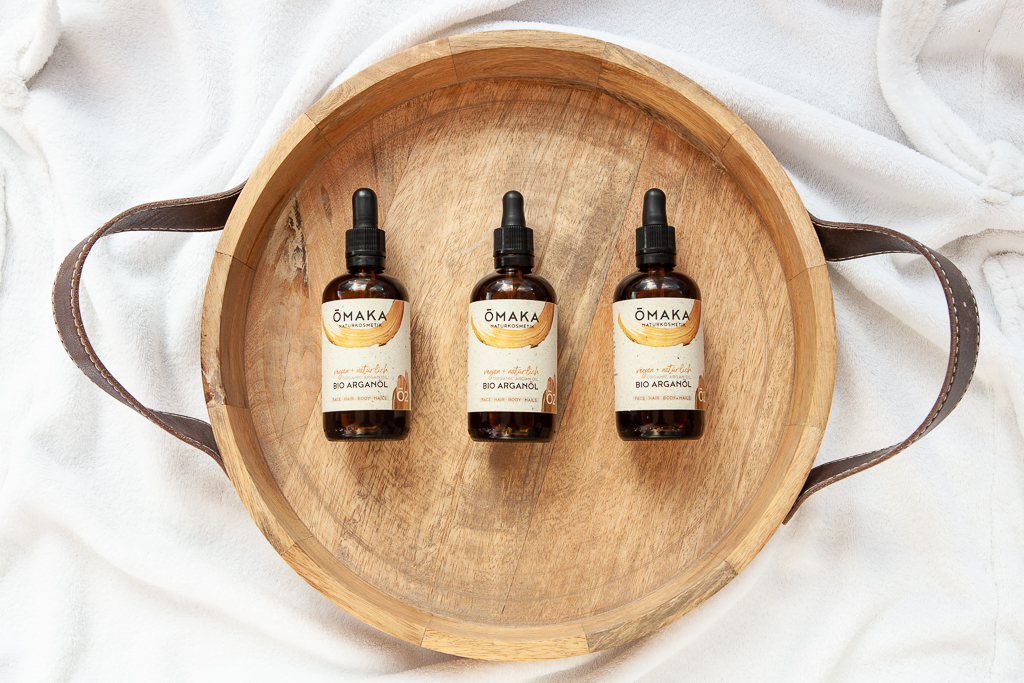 Our cold-pressed organic Argan oil or "liquid gold" as may refer to can be used as moisturizer for skin and hair. Argan oil is very rich in vitamin E, which provides a fatty layer to your natural hair and scalp. It may help prevent dryness and can help reduce fizziness and boost shine.
2in1 Conditioner – ŌMAKA / 250ml for 16,90 Euros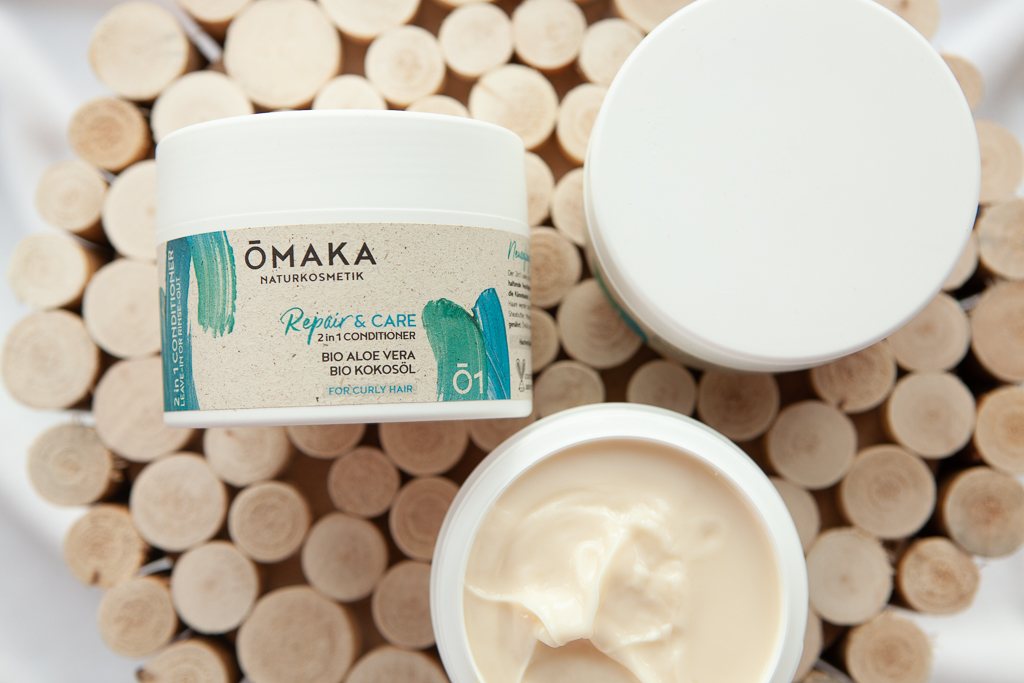 ŌMAKAs 2in1 Conditioner does everything! This multi-purpose hair treatment can be used a Leave in Conditioner, Rinse out Conditioner or even as a Deep Conditioner if you add some drops of our organic Argan oil to it. It contains Coconut oil, Aloe Vera Juice, Moringa oil, Rosmary oil adds shine, moisturize and more!
Although the website of ŌMAKA is currently only available in German, we ship world wide. You can simply order via email (hello(at)omaka.de).
Let's press reset for new beginnings – ŌMAKA!
Please follow and support
Website: www.omaka.de
Instagram: https://www.instagram.com/omaka.de/