Ladies, summer is almost there and many of us can't wait to get in the refreshing water. Swimming pools are a welcoming environment for bacteria so to keep them away water is often treated with chlorine. Before you take a cool down, be sure to protect your natural hair from the damaging effects of chlorine. Here are 7 great ways to protect your natural hair from chlorine.
How does chlorine affect your natural hair?
Chlorine is able to suck away the sebum out of the hair shaft. Sebum is the natural oil which your scalp produces in order to protect your hair from damage and harsh weather conditions. After swimming in a pool you may experience dry and brittle hair. Chlorine is not good for your natural hair. Luckily, there are some great ways to protect your natural hair from chlorine damage.
How to protect your natural hair from chlorine
There are some things you can do before you go swimming and afterwards.
1. Wet your hair with water
Before hopping in the pool rinse your hair with warm water. Your natural hair is like a sponge. It will absorb the water until it is saturated. That means your hair will only absorb a small quantity of the chlorinated water as it is already filled with water. Don't skip this step.
2. Apply coconut oil
Gently coat your hair with coconut oil. Be sure not to forget your scalp and your ends. You can do this the night before as your hair will absorb the oil. This will lock in the moisture and it also works well because coconut oil and water don't mix. The hair coated in coconut oil acts as barrier to the chlorine in the water. It also helps your hair retain moisture by sealing moisture into the hair shaft.
3. Apply a conditioner
Apply a generous amount conditioner to your hair that is for dry curly hair. Make sure to coat the length, roots, and scalp. This will moisturize your hair and seal the cuticle and help create a barrier between your strands and the harsh pool water. Don't rinse out the conditioner.
4. Wear a swim cap
Cover your hair with a swim cap. This will prevent your natural hair from getting wet. So you don't have to worry about your hair getting dry and brittle. Some people apply a conditioner first before putting the cap on. If you don't like the idea of a swim cap just put your hair in flat twists or cornrows.
5. Use a shampoo after swimming
After swimming rinse out the conditioner and pool water for some minutes and use a swimmer shampoo or a cleansing conditioner such as Come Clean by Kinky-Curly to wash your hair.
6. Use a deep conditioner
You need to apply a deep conditioner to the hair. Cover it with a plastic cap and let it sit for 20-30 minutes. Then rinse it out.
7. Moisturize and seal
Use a hair cream to moisturize your hair and oils or a butter to seal in the moisture. This will help the hair cuticles to retain moisture. Put your hair in a protective style and let it air dry.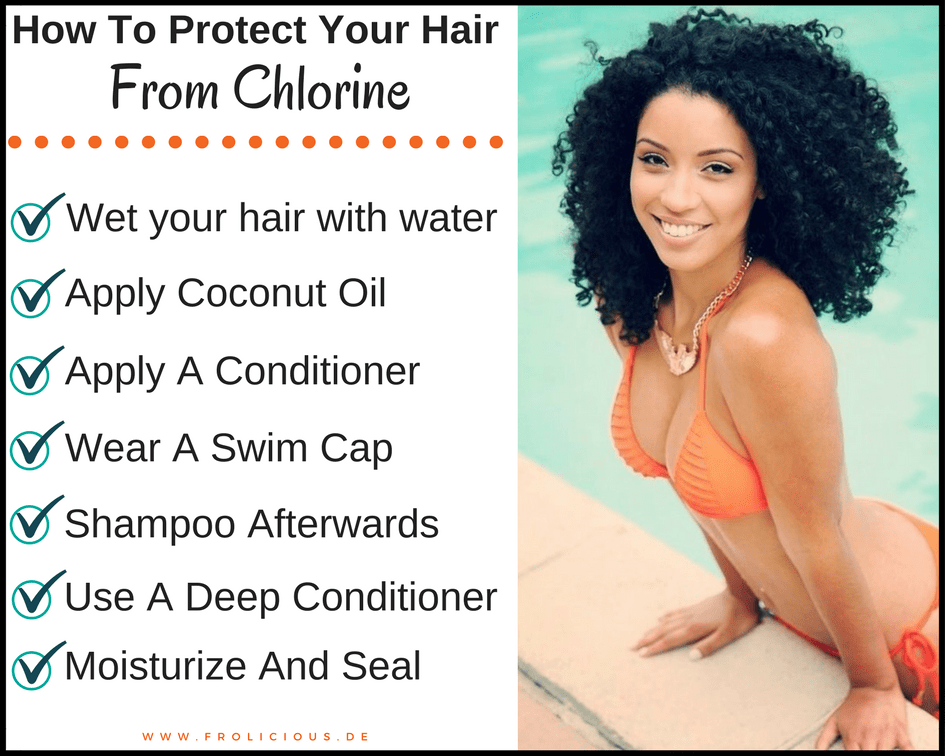 Choosing to wear your natural hair should not hinder you from getting in the pool. So put on your stylish swimsuit and enjoy the cool water.
///
How do you protect your natural hair from chlorine? Please leave your comments below. I'd love to know!