Have you tried the whipped mango-shea butter recipe yet? I was asked via email by many Frolicious Beauties if I could post the reasons why to try the whipped mango-shea butter recipe I mentioned in one of my last posts. Here are 10 reasons why you should try the whipped mano-shea butter recipe today.
10 reasons to try mango-shea butter recipe
Raw mango-shea butter provides moisture to dry and damanged hair and skin
It repairs natural hair breakage and itchy skin
It contains vitamins A, C, D, E, and group B vitamins: folic acid, calcium, iron, and magnesium (vitamins A, C, and E are known to be beneficial to hair)
It does not cause buildup
It helps you if you have scalp issues: e.g. drandruff, eczema or dermatitis
Raw mango-shea butter mixture is a great protection against weather damage (winter)
It acts like a shield to protect your hair and skin against sunlight
This butter can also protect your hair getting heat damage
Raw mango-shea butter mixture is able to smooth and soften afro hair strands
You can even use it to prevent stretch marks during your pregnancy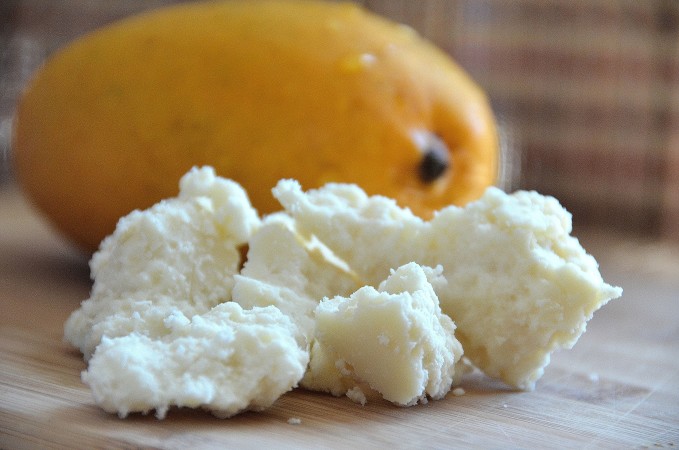 After trying the mango-shea butter recipe I was completely impressed. As you know I love raw shea butter and the benefit of it. Now, I have found a second butter that I really like. You can use it as a pre-poo or for a hot oil treament.
Instructions:
Apply the butter on your hair
Cover it with a plastic cap
Let it sit for 30 minutes.
Rinse it out and continue as usual with a shampoo or deep conditioner.
You can also use this butter it in your loc method. But first of if you are looking for a great alternative, I can recommend the whipped shea butter recipe to you. Get your mango butter here.
Are you going to try the whipped mango-shea butter recipe? What is your biggest natural hair issue?
Leave your comments below. I would love to read your points of view. Use your Facebook account or Disqus to comment below.
Feature image: www.brit.co