Do you remember the time when you was not able to buy skin tone lingerie because of your skin color? I remember that some lingerie brands have gone so far as to insist that there is only one shade of nude for all skin tones! At that time the lingerie companies did not even considered the possibility that a black women would require different shades of nude. Thank god, time has changed!
Today, I'm delighted to introduce you to Sadia Sisay, who has founded the beingU skin tone lingerie brand. Sisay is 47 years old and was born in Sierra Leon. Her company beingU creates high quality skin tone lingerie for women of all skin tones with a particularly strong focus on black women and other women of color. Her past and present has certainly proved that no matter what you go through you can and will achieve anything if you commit to your dream.
Founded in 2008, Sadia first attempted to launch the brand in 2011 however due to personal challenges, she had to put her dreams on hold. After losing her husband to an unexpected death in 2014, she has rebuilt her life after heartbreak. As the main carer for her mother who suffered a stroke 6 years ago, she has had to balance building her business and looking after her mother.
Everyday I was not working on my skin tone lingerie idea was painful for me. But how could I give up when my most important message to my daughter was to persevere.
Interview with Sadia Sisay of beingu skin tone lingerie brand
Frolicious: Please tell us a little bit about beingU.
beingU: beingU is a skin tone lingerie company. We are launching a range of nude lingerie that matches skin tone and briefs specifically to fit the fuller bottom shape.
Frolicious: beingU was founded in 2008. What initially drew you to lingerie?
beingU: I founded beingU because my daughter was growing up in an environment where the color nude did not represent anything that looked like her. The color we were buying for her to wear under school shirts etc was black.
Frolicious: Please tell us a bit more about your skin tone lingerie collection. How involved are you when it comes to the designing process?
beingU: We have 3 styles of bra and 5 skin tones. I am super happy that we are able to provide different sizes. We have a bra that work from 28 to 44 back and up to an H cup. I am involved in every step of the design process. I work with Bok Goodall, a great designer on every aspect of the design. I choose every component of our lingerie however I am always for any advice from our production company.
Frolicious: How does beingU fit into the 'big picture' that is the multi-billion dollar lingerie industry? What distinguishes you from other brands who are focused on similar customers?
beingU: It is a large industry but that industry ignored a huge segment of their customers for many years. Skin tone lingerie for women of color was missing. Our skin tone lingerie company beingU is different as it does not only have a padded cup. We also have a 3 piece cut and sewn bra and a beautiful fashion bra with our signature embroidery. We also have our buttaCup briefs which cups the bottom and provides a very comfortable fit. In addition to this, we also have our backless solutions bra. So we have tried to do a complete range which we will continue. We are now providing a product that meets the needs of women of color. We need to embrace our color and body shape – No matter what! Being "visible" is the core of our brand.
Frolicious: Your blog of beingU starts with the title "We are back". Some years ago you founded beingU. You have faced personal challenges. Was there ever a point when you wanted to give up?
beingU: Everyday, I was not working on my skin tone lingerie idea was painful for me. It felt like, I was losing my dream. I was watching other people fulfilling my dream. However, giving up was never an option. I believed in my idea. I wanted to show my daughter to persevere. My message to her is: That you can do anything you want to! Even if I could not launch anything I was still working on the concept of beingU.
Frolicious: What is the most rewarding aspect of running beingU?
beingU: What makes me proud are the emails that I am receiving. Women are telling me how happy they are to being represented.
Frolicious: Can you tell us more about the color range of your skin tone lingerie?
beingU: Yes, of course. We have 5 skin tones named after the birthdays of women who have had a positive impact on beingU. We have worked on undertones to develop our colors from the lightest to our darkest. We are heavily focussed on black women and other women of color because that was missing.
Frolicious: Do you have a favorite piece in your collection?
beingU: I sometimes think I do. It is sometimes the stunning three piece Kobicha bra with its fabric that glistens, then I see the Rosa bra with our signature embroidery detail and think this is my favorite! I also love the straps of the Yendi padded bra that always catches my eye. I love all of them!
Frolicious: What's coming up in the future for beingU?
beingU: A lot, unfortunately I cannot talk about everything yet. But I can tell you that everything we have previously planned will be released in phases over the next months. I am very excited about our solutions range which will be available in May 2017. We will provide backless winged bra, silicone nipple covers and breast fillets to match our core colors. We will add missing sizes and extend our current range.
Frolicious: What advice would you give other entrepreneurs who would like to start their own business?
beingU: Choose something that you are passionate about. It is a hard slog and if you are not passionate about it then it will be easy to give up!
///
I believe the debut of such a beautiful skin tone lingerie range shows that beingU plans to stick around in the world of bras and briefs. I love the whole collection however my personal fave is the Yendi collection. It looks simple and sexy at the same time.
beingU bras are priced at £39.00 and £49.00. In addition to this, the ButtaCupBriefs are priced between £14.00 to £22.00. A great thing about beingU is that they have a bra that works from size 28 to 44 back and up to an H cup. The brand also offers a solution range with a stick on bra. I have not tried it but according to beingU this bra gives the illusion of being braless under your outfits. You can get one for £14.99.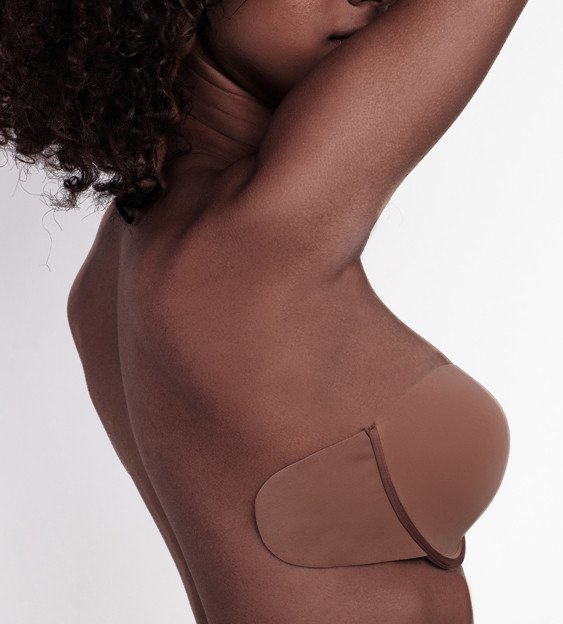 Currently, beingU has a valentine day gift for you. The offer expires on February 14th at 11:59 pm.
TAKE 14% OFF ALL BRAS WITH CODE YOU14
///
Do you have a favorite style from beingU's skin tone lingerie collection?
If you have any questions or feedback please don't be shy. Just comment below. Please share this interview to support a black-owned skin tone lingerie company. Let us inspire other people.
For more information about the beingU skin tone lingerie company, connect online:
Website, Twitter, Facebook, Instagram