Finally, Rihanna has debuted her makeup line FENTY BEAUTY. I am already a huge fan of her product range although I have not tried it yet. In total, there are 91 different variations of FENTY BEAUTY to buy. Here is my first impression of Rihanna's beauty line.
Range of FENTY BEAUTY by Rihanna
The FENTY BEAUTY makeup line is strongly complexion-focused. With 40 different foundation shades, categorized into Light, Medium, Tan & Dark Rihanna wanted to make sure that all skin tones are covered. Furthermore, besides long-wear foundations, there are primers, highlighters, concealer and blush sticks, blotting powder and paper, make-up sponges and brushes. However, you won't get any eyeshadow, eyeliner, mascara, etc. There is only one moisturizing peachy-bronze lip gloss called the Fenty Beauty Gloss Bomb Universal Lip Luminizer.
Where to purchase FENTY BEAUTY
In addition to FentyBeauty.com you can also purchase the line at Sephora, Sephora inside JCPenney, and Sephora.com. You can also get FENTY BEAUTY internationally at select Sephora stores throughout the U.S., Canada, Mexico, France, Spain, Denmark, Sweden, Thailand, Malaysia, Australia, Singapore and the Middle East (UAE, Bahrain, Qatar, Kuwait). If you live in the UK or Ireland, you can also shop FENTY BEAUTY at Harvey Nichols or on HarveyNichols.com.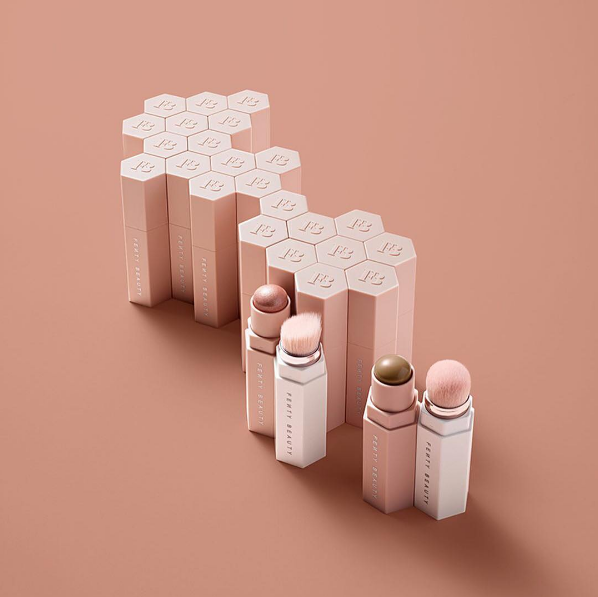 I love the Match Stix Skinsticks with their pale pink magnetic packaging. You can clip them together which makes it easier to find them in your bag. Interesting is also the blotting pater, which is rolled up as one long sheet and fitted into a dispenser with an inbuilt mirror. The shades are colorful and super pigmented. I have learned that you don't need very much. I have an eye on the bright yellow-toned highlighter called "Trophy Wife".
How to find your foundation color
40 foundations are a lot and a few of them look very similar but are different in the undertones. So If you have difficulties finding your shade I would recommend heading to Harvey Nichols or Sephora to try them out before committing to one. If you don't have one these stores in your area, visit fentybeauty.com and try the Shade Finder. You can also check out the following Frolicious blog post to find the perfect foundation for your skin tone "How To Choose The Best Foundation Shade for You".
Price
The makeup tools cost between $16 and $34. The one and only lip gloss is $18 and the foundations cost $34 while the Match Stix trio sets is $54.
My FENTY BEAUTY Picks
I have spent some time to show you my favorites of the new makeup line FENTY BEAUTY by Rihanna.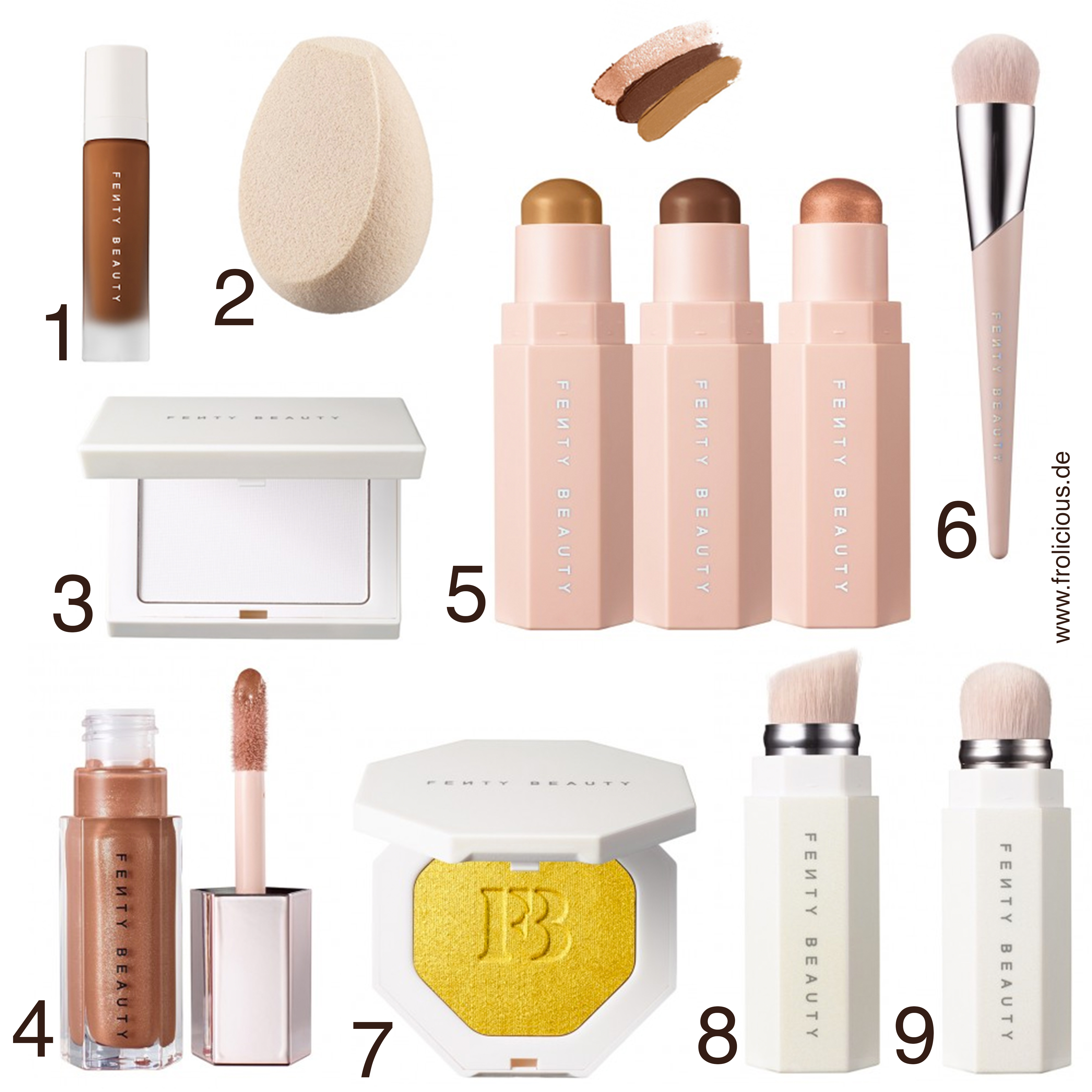 1. Pro Filt'r Soft Matte Longwear Foundation Color 460 – £26.00
40 Shades

2. Precision Makeup Sponge 100 – £13.00
3. Invisimatte Blotting Powder – £24.00
1 Shade

4. Gloss Bomb Universal Lip Luminizer – £16.00
1 Shade

5. Match Stix Trio Color Deep 400 – £46.00
mit 2 Foundations + 1 Highlighter

6. Full Bodied Foundation Brush 110 – £26.00
7. Killawatt Freestyle Highlighter – Trophy Wife – £26.00
6 Shades, davon 4 Duo

8. Portable Highlighter Brush 140 – £19.00
9. Portable Contour & Concealer Brush 150 – £19.00
Have you tried FENTY BEAUTY by Rihanna yet? What is your first impression? Do you have a favorite product so far?
//
I love this tutorial by Patricia Bright.
*This blog post contains affiliate links