I was looking for some new decoration ideas for my new flat. I would like to introduce you to SCENERY, a home decor and Accessoires label located in Amsterdam. Maybe you will find a piece that would fit nicely with your home's decor.
Introducing "Scenery"
Beth Oladipo has taken some time to talk with us about African inspired home decor.
Frolicious: How did you started?
SCENERY: I've done a quite a few things in my career, because I have a strong desire to continue learning and hate the humdrum of doing the same thing, day in and day out. All roles in creative fields though – illustration, window dressing, magazine styling, textiles…
After the birth of our second child, Maude, I decided to freelance as a textile print designer for fashion, rather then work full-time in house for a clothing brand. Besides having more hours with the children, this freed up time for me to sew, which I really enjoy, and also think about where to take my career. With textile design work, you rarely get involvement in designing the finished product that the print actually goes on. At University my art works were always 3-Dimensional, so I decided that combining print and the product design could be a great way to progress. Plus SCENERYLABEL also allows me to work as a stylist again, developing concepts and styling photography.
Around the same time, over 6 years ago, my husband Tomi who's also a textile designer, started to work for Vlisco, the batik fabric manufacturer in Holland. Seeing his fabric designs really inspired me to get on the sewing machine, and make cushions and other accessories to wear with the fabrics. It's so great to use his creations in my creations!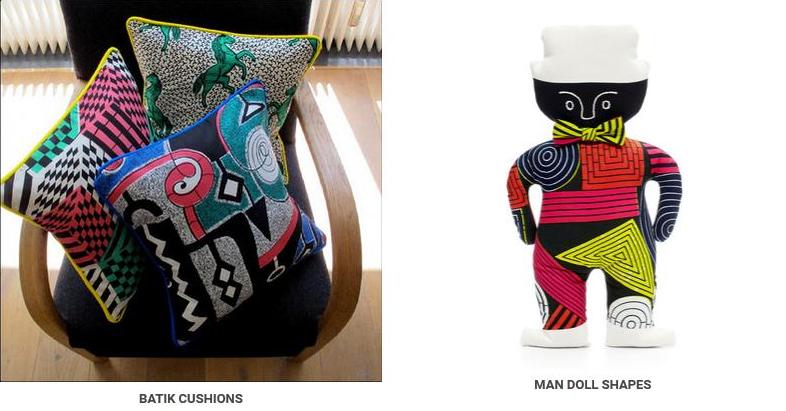 Frolicious: What inspires you?
SCENERY: Our home is very eclectic in style, and there's always been accents of bold colour and patterned fabrics. Before the batik, the African influence was already there (not only because of my partner's Nigerian roots) but because we both love high contrast colour, normally found in warmer climates, and art deco era furniture and accessories, which back in the 1920's were also inspired heavily by art and craft in Africa.
The SCENERYLABEL branding was totally influenced by the hand appliqued flags by Fante people, Ghana. I developed the striking face graphic, from an embroidered man that I'd seen in a book. I taught myself the applique technique from carefully studying a handmade wall hanging that Tomi had brought back from Africa.
The styling in old photographs by Seydou Keita, Mali, inspired all of the black and white patterning, and also the onyx necklace designs.
The African American, Gees Bend quilters sparked me to make patchwork products, and my intrigue with the Sapeurs, Bacongo made me develop tailoring ideas, and of course the fun man doll. These are just a few noteable African influences, but there are lots more!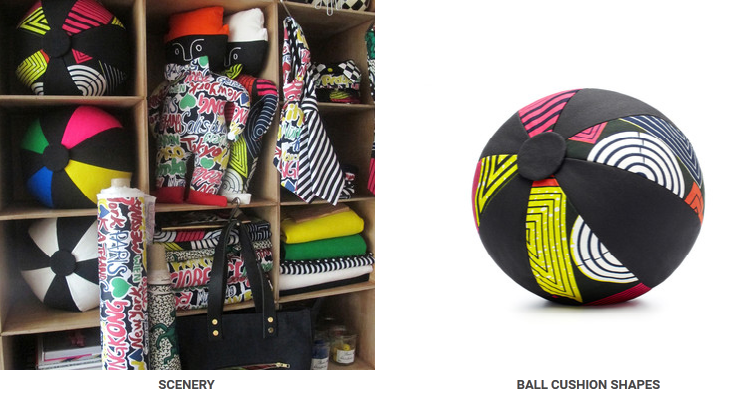 Frolicious: Do you think African Wax is just a trend?
SCENERY: The qualities that sets wax fabric aside from other fabrics, in my opinion, is the bold simplified imagery, vibrant colour, and obviously the print process that is involved to produce it. Designs are always in limited supply, Vlisco may repeat production of a print but it will rarely be in the same colourway.
I currently make my designs to order, one of the reasons being that this fabric is so precious – when I run out, there's no guarantee that I can get it again!! It would be upsetting to cut lots of neckties from the cloth, and then get an order for cushions…
I don't think it's just a trend, there will always be people like me that are passionate about batik print fabric, but it's true to say it's VERY fashionable right now. Maybe as a result of the recession and because batik fabrics are very happy and optimistic in appearance, more people are buying batik right now to cheer up their homes and outfits.
Like other types of printed fabrics though, there are so many colours and designs to choose from. Every brand that uses batik in their collection has different taste, and applies them to different products, so I think it's possible to keep reinventing the way batik is perceived, and add a new spin on it. For Vlisco, Tomi has designed prints that are very modern and architectural, quite Bauhaus and Memphis Design influenced – when you see these printed in primary colours, they are so different to the traditional wax colourways, such as the red and gold combinations. There really is a wax batik for eveyone!
More SCENERY Items: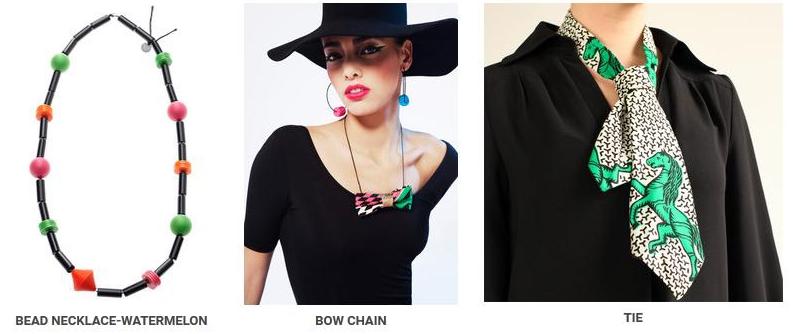 When I first discovered SCENERY, I was like "wow" and wanted to know more about the label. The items of SCENERY are outstanding, dynamic and fierce. I like the bright and powerful colors and also the fact that the label is inspired by Africa (e.g. Ghana). Each product is unique, due to variations in the placing of printed fabric, hand filling and hand stitching. SCENERY is a handmade fashion and home accessoires label.
Beth Oladipo, is the founder and designer of SCENERY. She describes herself as a curious, creative person who always looks on the bright sid of life.