Yolander James is one of the designer who is going to present her collection at the docklandFASHIONparty on Thursday October 1st. The music & fashion party will take place at IndoChine (Hamburg, Germany) and doors will be open at 6pm. According to the organisers, Diaspora Events Germany: "We are ready to host a great event and to make everybody happy. YOU BETTER BE THERE"!
Yolander James is a designer based in Hamburg (Germany). She is excited to present her new dress collection at the docklandFASHIONparty. We caught up with her over email to discuss what inspires her to become a designer, about her signature dresses and much more! docklandFASHIONparty, 1st of October, IndoChine (Hamburg, Germany)
Interview with Yolander James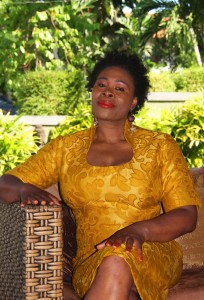 Frolicious: Thanks for taking the time to chat with us. Please tell us a bit about yourself. How did you become a designer?
Yolander James: I grew up on the Caribbean island Dominica. In my household it was quite normal that everyone was occupied with sewing clothes. As a young girl I was fascinated by fabrics and I enjoyed sewing clothes for my dolls. We had at least 3 sewing machines at home and all my cousins and aunts and even the boys at home were sewing their own clothes on the weekends. At the age of 13 I started creating my own designs, soon after that my friends were so envious, so they asked me to sew clothes for them. At this time I was consistently developing knew creations and l loved it. That's how I knew that I wanted to become a fashion designer. At the age 19 I had the first fashion design studio in my hometown Dominica and was designing and finishing clothes for clients.
Frolicious: How would you describe your latest collection?
Yolander James: I enjoy creating fashion for women. The collection is a simple, elegant and easy to wear which includes basic pieces but also extravagant ready to wear. 
I wanted to offer a collection which can be worn the for different occasions. With the Yolander James dress collection the woman can wear the dress in the morning take her child to the playschool, then go to the office from 9 to 5, then early evening she can go to the after work club with her executive colleagues or meet friends without having to change once. The only thing she has to do is just to refresh her make up a little bit. In the Yolander James collection there are also a few pieces for that special the red carpet occasion. As always the coat collection is breathtaking. I have used more elegant fabric and have done some more mixing and matching with colors and fabrics.
Frolicious: How did you establish your signature design "wrap dresses"?
Yolander James: I enjoy designing dresses with the wrap technique, but I'm not sure if I would name it a signature design. But it is very interesting coming from you that the wrap dresses would be a signature design of the Yolander James collection. Actually, when I started a few years ago to work on commercial collection I experimented in different areas and one day I developed a dress which was well received in my shop so that was it. Over the years I've been working on this technique and creating different styles difference with the wrap technique. So it seems to be working so I will continue bringing new designs every season.


Frolicious: What is special about your designs?
Yolander James: I create woman fashion that inspires me. At the same time, I keep the designs simple and very elegant. My niche are dresses and coats for the city woman or for the business woman. I consider myself to be not only a fashion designer but being an entrepreneur, it is the whole story about me. I started my business with no budget. As a fashion designer it is not only about being creative in  your studio when developing your next collection but it's also about being extremely creative in everything you do, in every decision you make in order to grow or expand on the extremely rough fashion market.
Frolicious: Do you think that there is a movement regarding African Fashion at the moment?
Yolander James: The Yolander James designs have always contained a few elements of African and Caribbean influences. In my earlier work I have used much more African fabric than I do now. I have observed within the past one or two years that the use of African fabrics  in the fashion world on the international market is becoming much more important than it used to be. I am experiencing many more African fashion designers on the scene than it used to be. Through this observation it is of course very exciting for me as a black designer to be part of this development. Also top designers like Vivienne Westwood has discovered the greatness of African culture and has integrated this part regularly into her collection.
Frolicious: Any last words?
Yolander James: Yes ,I am excited about being a part of the docklandFASHIONparty which will be on the 1st of October. 
I will present the new dress collection. It is important for young designers to have a platform where they can show off their work, but even more important it is for designers of African Caribbean descent living in Germany to be able to present their work as a collective. I am hoping that there will be more events coming up like this in the future.
More information:
Feature Image by: Belmondo
Showroom:
Yolander James
Chemnitzstrasse 48
22767 Hamburg
Germany
Contacts:
Tel: +49(0) 40-85370218
Mobile: 49 (0) 178 213 7906
Website   www.yolanderjames.de
Email: info@yolanderjames.com
Facebook:   http://www.facebook.com/YolanderJames
Instagramm:   https://instagram.com/yolanderjames
Twitter:  www.twitter.com/YolanderJames
Youtube:  http://www.youtube.com/user/YolanderJames
Google+ :  https://plus.google.com/+YolanderJames
docklandFASHIONparty
presented by Diaspora Events Germany
1st October 2015 IndoChine (Hamburg, Germany)