Are you looking for a great moisturising creme to get rid of dry hair? Maybe this hair care creme is the perfect product for you. Today, I am doing a review about the Moistursing Créme by Modiê Haircare, a brand based in London – by a black woman for black women. A brand that believes that beauty is black. Doesn't this already sound great? By the way: This is not a sponsored post.
Moisturising creme
A rich and thick creme is not always easy to find. So I was happy when I got my hands on the Modiê Moisturising Créme. I have used it for some months to see how it works on my hair. I would consider my hair as kinky 4 c and b hair in some areas. In addition to this, I have thin and low porosity hair. The product claim says it is suitable for all hair types. The product itself feels super thick and rich between my fingers.
This moisturisng creme does not have any harsh ingredients. There is a section on the jar that lists everything that is not in the product like: No Sulfate, No Paraben, No Gluten, No Silicone, No Mineral oil.
Product Name: Moisturising Créme
Price: £ 14.99
Size: 200 ml
Ingredients
Ricinus Communis (Castor) Seed Oil, Aqua, Olea Europaea (Olive) Fruit Oil, Glycerin (humectant, keeps water in), Cetearyl Alcohol (A fatty alcohol that acts as a gentle humectant (promotes the retention of moisture) and is naturally derived from fatty acids from coconut oil.) Cetearyl olivate, Sorbitan olivate, Parfum, Hydroxyisohexyl-3-cyclohexene carboxaldehyde (component of the fragrance), Phyllanthus Emblica Fruit Extract (Organic Amla), Cocos Nucifera Oil, Butylphenyl methylpropional, Gardenia Taitensis (Monoi) Flower Extract, Methylchloroisothiazolinone(preservative), Methylisothiazolinone, Benzyl alcohol (preservative)
Product Description
The product description sounds very promising. It says that you don't need a leave in conditioner or extra oils after using this moisturising creme. It will leave your hair beautifully soft as it contains castor oil, olive oil, organic amla as well as manoi oil which moisturises your dry or treatment-damaged hair.
Suggested Using
Apply to dry or wet hair, working the creme from root to ends. Style as desired. Excellent for braids out, two strand twists, coils, braids, cornrows or bantu knots.
How I Used it:
I have used it during my Onion Juice Challenge to maximise my hair health. This was one of the best decision I have ever made for my hair. I wet my hair with water and did the onion juice routine. After shampooing the juice out, I used a deep conditioner. Then, I followed up as suggested by the brand. I put my hair in sections and applied a small amount on my damp hair. Detangling my hair was super easy. Then I did two strand twists or bantu knots. Sometimes, I also wore a wig or a turban style. My hair looooves this moisturising creme a lot. My hair felt super soft even after days. And guess what? It was really not necessary to add any oils as the moisture was already sealed in by the creme itself. It makes sense if you consider that the first ingredient is castor oil followed by water and other oils.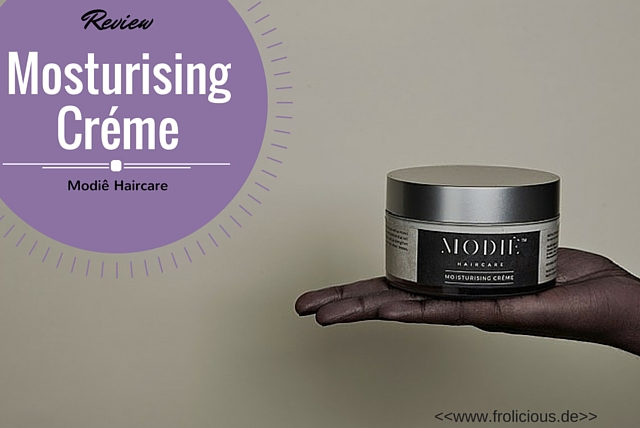 Would I Recommend This?
While applying the moisturising creme on my hair it felt immediately soft. This feeling did not change after days. In addition to this, my hair also did not felt oily although this product contains may oils. I was surprised because normally my hair dries out very fast.
Would I recommend it? Yes, I 100 % would. Modiê Moisturising Créme gave my hair LIFE. This product is really, really great and I am not promising too much. To put it in one word: AMAZING. This moisturising creme will upgrade your hair game. I am sure that your Frolicious Curls will feel healthier after using it for a certain time. You should definitively give it a try to see how it works on your hair as every hair is different. So far, I have only used it during the colder days and I couldn't ask for a better moisturising creme. This is going to be one of my staple hair products. Modiê Haircare ships worldwide and I have just noticed that you can receive up to 20 % discount off, when you join their mailing list.
About Modiê Haircare
Modiê Haircare a premium brand for women of colour was founded by Janette Nzekwe. A member of the British Society of Cosmetic Chemists, Nzekwe, who is of Nigerian/Botswana descent has a Biochemistry BSc (hons) degree from Royal Holloway, University of London. After working for large pharmaceutical companies for more than a decade,the 37 year old created Modiê Haircare.
Have you already tried the Moisturising Créme by Modiê Haircare? I'd love to hear your thoughts!
Hit the like button – Leave a comment – Share this review with anyone you think will get value from it. Share you thoughts and questions. I am here to assist you. Subscribe to our newsletter and get access to our free ebook library.
More info:
Note: I'll say it again: This is NOT a sponsored post. I am not being paid by Modiê or anyone else to write about this product.