Have you ever tried one of these natural hair care kits to improve hair growth? Whether you are transitioning to natural hair, did a big chop or are on your natural hair journey for a while, finding the right products for your hair can be nerve-racking and super expensive. A feeling I'm sure a lot of you can relate to.
So in today's post, I will be sharing 3 amazing natural hair care kits by Antidotestreet.com every natural beauty should try. These kits will help you to take care of dry hair, braids, scalp and to promote hair growth. In addition to this, you will save a lot of money and time.
Who is Antidotestreet.com?
Antidotestreet.com is leading UK /Europe based online shopping destination with a huge range of hair care products for Afro or multi-textured hair. They stock everything from much loved brands like Shea Moisture and Alikay Naturals to up and coming UK brands like Modie Hair Care and Skimdo. With so much hair products out there, Antidotestreet.com carefully handpicks the best haircare brands who provide the best ingredients for our hair. They also ship all over Europe!!!
3 Natural Hair Care Kits – You Should Try
As mentioned before, it is always not easy to select the right products for your hair care.  However, you can do so with the natural hair care kits of Antidotestreet.com You will get the products you need to build a perfect hair routine in one kit. Those products will stimulate hair growth, take care of your braids & scalp and nourish dry hair.
Per hair care kit you get:
4-5 Full Sized Hair Care Products
15 % Discount on your order – Use FROLICIOUS15
On Top 2 Free Sachet of Samples
If you struggle to build a routine, then these hair kits will help you with that issue! Sounds great, right?!
So now let me introduce you to these handpicked products that have been used by many other Frolicious beauties with great results.
Dry Hair Kit – Use Discount Code "FROLICIOUS15" to get 15% off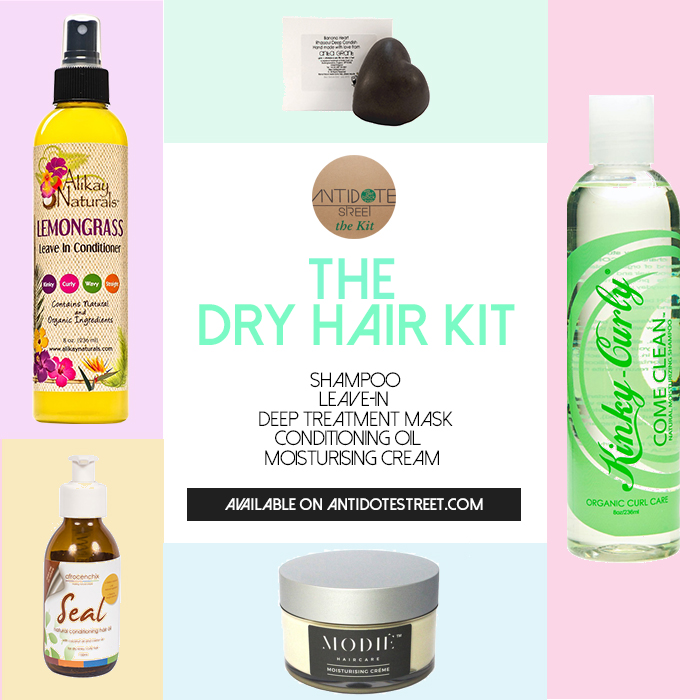 Kinky Curly Come Clean – Shampoo
This sulphate free shampoo with Mandarin orange extract is the best shampoo I have ever used. It gently cleans the hair and scalp from build up, while Sea Kelp maintains its proper moisture balance. It lasts very long as you only need to use a small amount of it.
Anita Grant for luxurious deep conditioning – Deep Conditioner
This is for intense hydrating treatment for restoring the moisture balance in extremely dry natural hair. Banana is a brilliant hair tonic, rich in vitamin B6 for healthy scalp and hair. You just need to melt the Condish Heart in hot water or hot coconut milk. Then apply it on your hair once it has cooled.
Alikay Naturals – Lemongrass Leave In Conditioner
This is a favourite of many and fondly called 'The Liquid Gold'. Infused with essential oils, aloe vera and silk amino acid for repairing dry hair and promote moisture from inside the cuticle. This can be used also as a daily moisturising spray. I am using this leave in conditioner for a while now and I love it. This lightweight leave in Conditioner smells fantastic.
Modie – Hair Cream
I am in love with this hair cream. This is an intense moisturiser including castor oil for extremely dry hair. Click here to read my review about Modie. I wish I would have known it sooner.
Afrocenchix Oil
This particular oil is specifically formulated to help dry ends and help in retaining moisture. It emulates the natural oils in the hair in order to provide maximum moisture for easy manipulation of the hair.
Hair Growth Kit – Use Discount Code "FROLICIOUS15" to get 15% off 
Shea Moisture – Anti-Breakage Strengthening Shampoo
This shampoo contains Organic Shea Butter, Plantain and Yucca to strengthen weak hair. Furthermore it promotes hair growth for thicker fuller hair and nourishes hair with moisture, whilst removing impurities and product build up. It does not provide the slip, however if your hair is weak then you should try this shampoo.
Jessicurl – Deep Conditioner
This is perfect for pampering very thick and dry curls. This can be used as a deep conditioner (used 30-60 mins) or as a daily conditioner, so it is two in one product! A perfect product to save money.
Anita Grant – Daily Leave In
Really good for locking in moisture. It has cedarwood essential oil and ylang ylang essential oils to stimulate hair follicles and increase circulation to the scalp and encourage healthy hair growth.
Hug My Hair – Spritz
Activity tests have shown that when used in hair care, it increases hair growth by up to 27% in just two months. Spray directly to thirsty hair and massage into scalp twice a day. You will see a change very soon.
Alikay Naturals – Oil
Includes a custom blend of 17 essential oils which promote hair growth by penetrating the scalp to get the nutrients to the follicles. It also helps to reduce dandruff, scalp infections and inflammation.
Braids & Scalp Kit – Use Discount Code "FROLICIOUS15" to get 15% off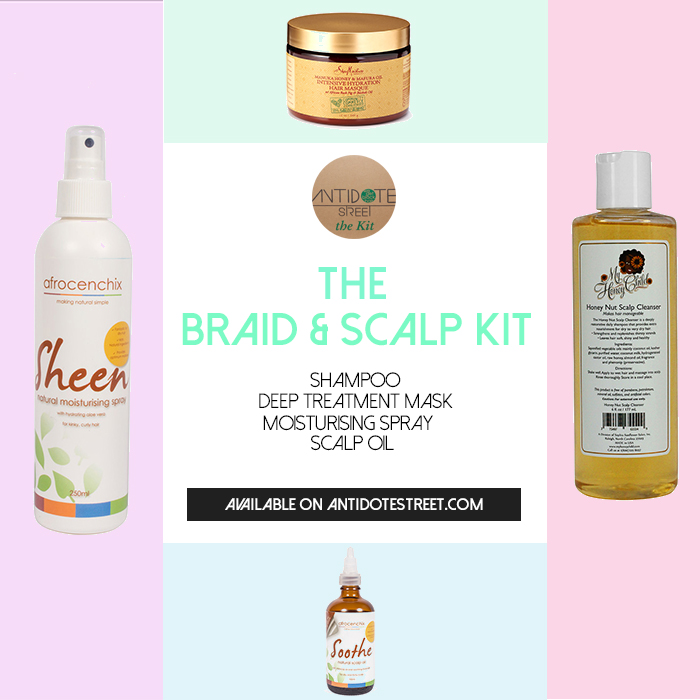 My Honey Child – Shampoo
This shampoo concentrates on keeping the scalp clean, especially after it has been in braids for a while.
Shea Moisture – Intense Hydration Hair Masque
After your hair has been in braids for a long time you will feel the need of moisture. This Deep hydration treatment is the perfect product for you as it restores lost moisture.
Afrocenchix – Moisturising Spray
A great spray for moisturising the hair whilst it is in braids.
Afrocenchix – Scalp Oil
This scalp oil combats itchiness and stimulates blood flow for a healthy scalp.
///
These natural hair care kit will help you to improve your hair routine. Every natural beauty should try one of these hair kits. I have the "Set for Dry Hair" and I am absolutely happy with it and would recommend to everyone who is facing dry hair.
The code FROLICIOUS15 is only good till 7th of August 2016 !!! If growing long hair is one of your goal this year, then you should grab one of these reduced hair kits! So act fast to take advantage of this awesome discount!
Do you have any questions? Are you going to try any of these Natural Hair Care Kits?
Explore Antidotestreet.com: 
Website, Twitter, Instagram, Facebook
Note: Although, this post is sponsored, all opinions are my own. I only recommend stuff that I love.