Do you know how to prepare your hair for a protective style? Protective style is a great way to retain length by putting less stress on your natural hair. It allows your hair to breathe and promotes hair growth. Here are 5 steps you should take before installing a protective style.
What Is A Protective Style?
You are wearing a protective style when you tucked the ends of your hair away from being exposed to sun, heat and constant manipulation. The oldest part of your natural hair are the ends. That means they are the most fragile. The more you wash and style the weaker it gets. Rocking a protective style is beneficial for everyone, whether your hair is in its natural state or relaxed.
A protective style is a hairstyle that can stay in place for a while without the need to re-style the hair for a while. As mentioned before, a protective hairstyle will help you to grow longer and healthier hair just by reducing split ends and knotting. There are so many variations of protective styles that you can try. One of the most popular from my point of view are box braids which you can were for 4-6 weeks.
Here are some more examples of beautiful protective styles:
Wigs
Cornrows
Twists
Pigtails
Buns
Updos
Bantu knots
Crochet braids
Weaves
If you need more inspiration, visit my Pinterest Protective Style Group Board. You will find plenty of different awesome hairstyles. You can use synthetic or human hair to protect your hair. So if you are thinking about braiding your hair, check out these steps before getting a new protective style.
How To Prepare Your Hair For A Protective Style
Before you call your friend or stylist to help you with your chosen protective style please make sure to care for your hair. Here is how my hair routine looks like.
1. Cleanse Your Hair
Use a sulfate free clarifying shampoo to clean your scalp before rocking a protective style. I know that some natural sisters like to wash their hair with apple cider vinegar or a wet baking soda. However, I have not tried it before. To make sure that I have taken out all the dirt and removed any buildup from the styling products that might be left on my hair, I use a clarifying shampoo. Here are some of my favorite clarifying shampoos:

2. Deep Condition Your Hair
It is important to apply a deep conditioner after cleansing your hair. Choose a moisture rich deep conditioner to add back the moisture. Cover your hair with a plastic cap and let it sit for 20-30 minutes. Here are some deep conditioners I would recommend you to try:

3. Moisturize Your Hair
Moisturize your hair to make sure that your hair retains moisture while it is in a protective style. If you have low porosity hair like me choose the right products. Low porosity hair requires moisturizers rich in emollients such as jojoba oil. Read more here: How I Care for My Low Porosity Hair. High porosity hair absorbs more water when it is wet but, loses even more as it dries. You need rich moisturizing products and a butter to seal in the moisture.

4. Seal Moisture
Seal in the moisture with a product dependent on your hair porosity. If you don't know if you have high or low porosity hair you can't go wrong with using a thicker oil or butter to lock the moisture in.
5. Stretch Your Hair
Last time when I went to my stylist to get me new braids, I did not stretch my hair as I thought it was not necessary. You can't even imagine the look I got from my stylist. She was not happy. Before installing the braids she began to stretch my super kinky hair by using a heat free technique like African Threading. You can also stretch your hair the night before with flat twists, flexi rods or cornrows. Stretched hair is quicker and easier to manage. In addition to this, it puts less stress on your hair, it reduces breakage.
//
If you want your hair to become stronger and gain more length incorporate a protective style every now and then into your hair care routine. It will help you to reach your hair goal faster. Follow these 5 easy steps and you will see that your hair will grow longer and healthier.
RELATED: When Protective Hairstyles Are Not Protective
RELATED: 4 Tips to Care For Your Hair After Removing Braids
What Do You Do To Care For Your Hair Before Installing A Protective Style? Please leave your comments below.
PLEASE PIN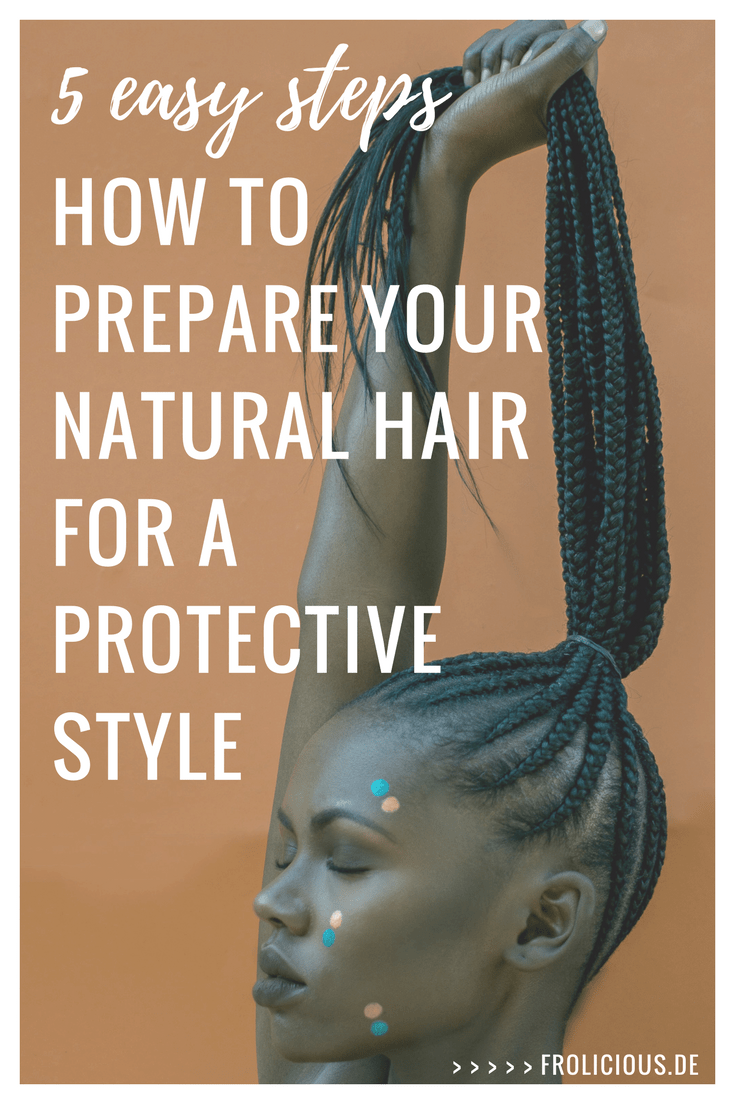 Image Credits:
Feature Image:
Photo: @e_FResh_ | Emmanuel Boakye-Appiah
Model:@hintofgoldah | Anna-Mercy Hope-Sowah
Pinterest Image:
Photo: @jassieuo | www.jassieuo.com
Muse: @lili_ann
Makeup: @camille_collazo
*This blog post contains affiliate links.