When I started to experience with makeup there was not much out there for girls with darker skin complexion. It was normal for me to wear the a foundation which did not match my skin tone but was nearest. Even nowadays it can get frustrated if you are in a makeup store and they only providing ashy and peachy foundations. However, there are some great black-owned makeup brands that cater foundations and other makeup items for deeper skin tones. They understand the undertones of dark skin and the need for more saturated pigments. Here are my picks for great black-owned makeup brands.
5 BLACK-OWNED MAKEUP BRANDS
The time has changed and now women with darker skin tones have a wider variety of concealers and foundations to choose from. In addition to this more and more black-owned beauty brands also cater high-pigment lipsticks, powder and eyeshadows.
IMAN COSMETICS
Iman Cosmetics has changed the game many years ago. After being forced to bring her own foundation to photo shoots, she knew that there was a struggle for dark skin women. Iman launched her brand in 1994 although she was told that black women won't buy her makeup products. The cosmetics are designed for African American, Asian, Latina and multi-cultural women with skin tones in a myriad of shades. Iman Cosmetics provides skincare and cosmetics, including 16 foundation shades. The makeup is sold throughout the world, including the United States, Canada, UK, France, Africa, and the Caribbean. Iman herself is a goddess and her products are really great.
Here are my favorites of IMAN Cosmetics
1. Second to None Stick Foundation
2. Perfect Eye Pencil Seduction

3. Sheer Finish Bronzing Powder – Sand

4. Perfect Eye Shadow Pencil Deception

THE LIP BAR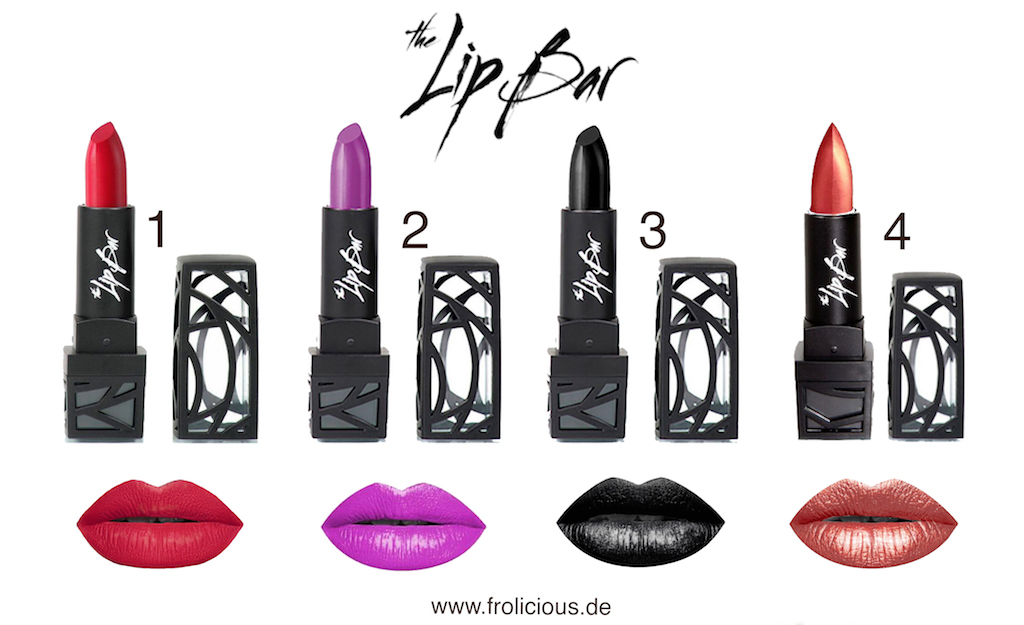 1. Lipstick Cosmo
2. Lipstick Purple Rain

3. Lipstick Night Owl

BEAUTY BAKERIE
3. Bubble Gum Crisis Matte Lip Wip

5. I just cake a lot Makeup Bag
6. Cranberry Stiletto Lip Whip
JUVIA'S PLACE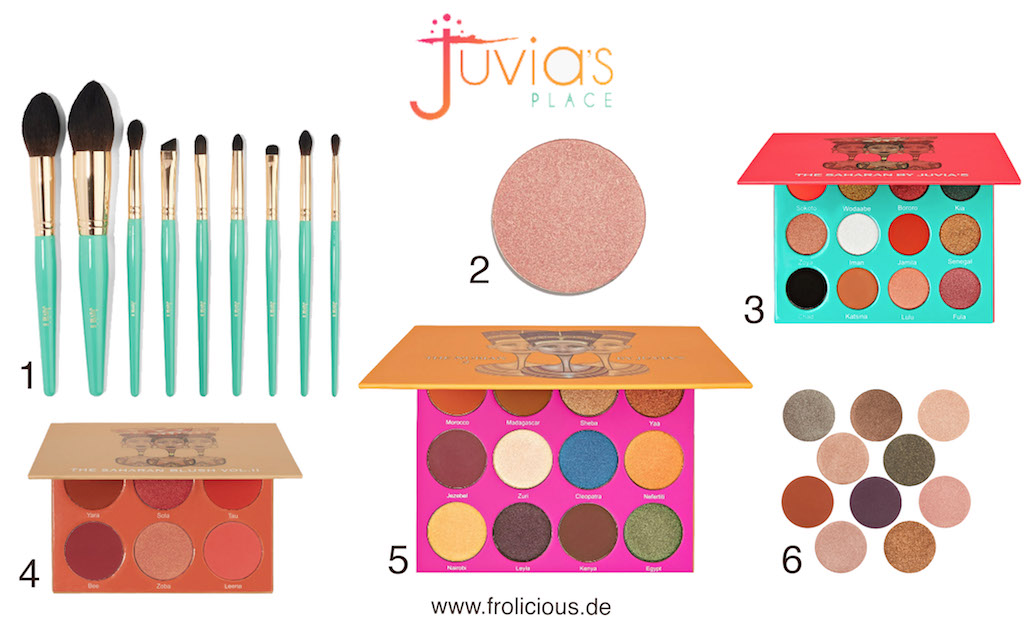 1. Turquoise Blue Brush Set
4. The Saharan Blush Palette Volume II
5. Nubian 2 Eye Shadow Palette
6. 10 Single Eye Shadow Bundle
FENTY
Rihanna is the founder of the makeup line FENTY BEAUTY. With 40 different foundation shades, categorized into Light, Medium, Tan & Dark Rihanna wanted to make sure that she covers all skin tones. Furthermore, besides long-wear foundations, there are primers, highlighters, concealer, blush sticks, lipsticks, eyeshadow, eyeliner, make-up sponges and brushes. You can purchase FENTY BEAUTY internationally at select Sephora stores throughout the U.S., Canada, Mexico, France, Spain, Denmark, Sweden, Thailand, Malaysia, Australia, Singapore and the Middle East (UAE, Bahrain, Qatar, Kuwait). If you live in the UK or Ireland, you can shop FENTY BEAUTY at Harvey Nichols or on HarveyNichols.com.
Click here to learn more about FENTY BEAUTY "First Impression Of FENTY BEAUTY By Rihanna".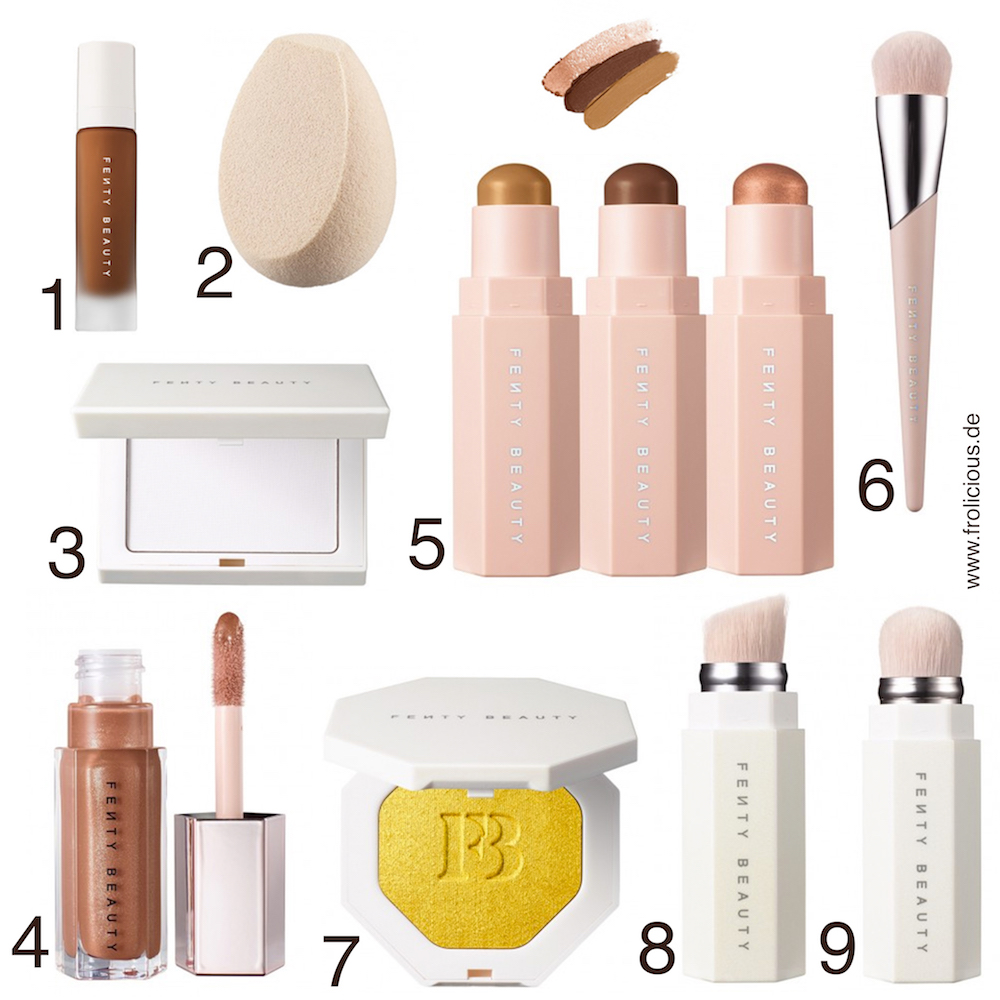 1. Pro Filt'r Soft Matte Longwear Foundation Color 460 – £26.00
40 Shades

2. Precision Makeup Sponge 100 – £13.00
3. Invisimatte Blotting Powder – £24.00
1 Shade

4. Gloss Bomb Universal Lip Luminizer – £16.00
1 Shade

5. Match Stix Trio Color Deep 400 – £46.00
mit 2 Foundations + 1 Highlighter

6. Full Bodied Foundation Brush 110 – £26.00
7. Killawatt Freestyle Highlighter – Trophy Wife – £26.00
6 Shades, davon 4 Duo

8. Portable Highlighter Brush 140 – £19.00
9. Portable Contour & Concealer Brush 150 – £19.00
//
Have you tried one of these Black-owned Makeup Brands, yet? Leave your comments below.
*This blog post contains affiliate links.