"AFRICAN FASHION IS NOT A TREND – IT IS GOING TO BE CLASSIC" !

 
Her name is Janice Deul and she is a Dutch lifestyle magazine writer with Surinamese roots and advocate for diversity in fashion and glossy lifestyle magazines. She lives in Leiden, The Netherlands, a great university city, situated in between The Hague, the seat of the Dutch government and parliament, and Amsterdam, our world-famous capital city. We sat down with Janice Deul to talk with her about African inspired Fashion, race issues in lifestyle magazines and runways and about her own fashion style.

Frolicious: When did you realize you wanted to become a lifestyle editor?
Janice Deul: I have two passions in life. One is fashion, obviously, the other is writing. I studied Dutch languages and literature at Leiden University because I wanted to become a writer and/ or a journalist. So being a lifestyle writer, with a focus on fashion, gives me the possibility to combine my two passions. When I finished off my studies (centuries ago) it was difficult to land a job, so I started working as proofreader for Sdu Publishers, the State Printing House of The Netherlands. Can't say it was very interesting, but in this period I learned how to write carefully and to check texts properly. Things I still benefit from. Due to a reorganisation I lost my job and this became the turning point in my professional life. I started working as freelance senior editor for Rôof Magazine, the first cross cultural lifestyle glossy of The Netherlands. I had an awesome time, till the magazine stopped. I decided to become a freelancer because I love my freedom and I love being my own boss. That was 15 years ago. Since then I have been working for all kind of glossy magazines in The Netherlands. To name a few Elegance, Glamour, Residence, AM Magazine. At this moment I am mainly working for newspapers as a lifestyle writer.
Frolicious: What does fashion mean to you?
Janice Deul: Fashion is nothing and everything. It can bind and divide. It can be art and it can be superficial. It is serious business, but you don't have to take it seriously all the time. It can reflect the way we see ourselves and the way we want to be seen. Fashion is fun and more.
Frolicious: What was your first really big editor job?         
Janice Deul: My first really great job in fashion journalism was as senior lifestyle editor for AM Magazine, the personality glossy of famous Dutch businesswoman Annemarie van Gaal. Unhappily the lifestyle magazine does not exist anymore, but I can see that this was my dream job for many years. Just imagine: we were situated in the PC Hooftstraat, a.k.a. 'The Fifth Avenue of Amsterdam', the well-known paradise for fashion lovers. Next to high-end boutiques as Bulgari, Cartier, Gucci, Louis Vuitton, Chanel, Hermès. The magazine was located in a two-floor apartment. We worked hard and enjoyed even harder. We drank Champaign at our desk (never before 11.00 pm though), had gourmet sushi for lunch and TV crews came over on regular basis. Because Annemarie, my publisher who had made a fortune in Moscow, was rather famous. She was/is also a true fashion lover: in those days she owned a boutique across the magazine where we could shop with huge discounts. I will cherish the Missoni maxi dress with fringed I bought there about 10 years ago till I die. Fortunately, it still fits me as a glove.
Frolicious: Could you describe the general process how you pick and create an article?
Janice Deul: Being a freelancer allows me to do the things I like. So I won't write an article on a subject or person that doesn't trigger me. But whatever the subject is: I always try to involve black or coloured people. Because it is good to show that there are black entrepreneurs, beauty specialist, IT specialist, designers or whatever. That is one of the great things about being a journalist: being able to give a platform to people whose talents, ambitions or hard work other wise may not be noticed.
Frolicious: Where do you get your inspiration?  
Janice Deul: I am my own inspiration. But I also get inspired by the people around me and men and women I see in the street. I love it when peeps are not afraid to show theirselvers in their own unique way.
Frolicious: Who are some of your favorite designers now?   
Janice Deul:I am not really into one or two designers. I see things I like everywhere. From Stella Jean to Moschino, from Chanel to Burberry, from Dutch label Tessa Koops, famous for the colourful prints, to the knitwear of African brand MaXhosa by Laduma and Dutch couturier Marga Weimans, who brings her Surinamese heritage into her designs. Have to confess: I am more into shoes, bags and other accessories then into clothes.
Frolicious: How would you describe your personal fashion style?
Janice Deul:Electic. I love mixing prints, colours and styles. Think: leopard print skinny, bright yellow Hugo Boss shirt, chequered coat in wannabe Burberry and a baby blue statement necklace in African style. I go for a creative, strong, artsy and individual look. Topped off with chunky platforms. Or men shoes. Don't like a typically ladylike look. Unisex is the new sexy.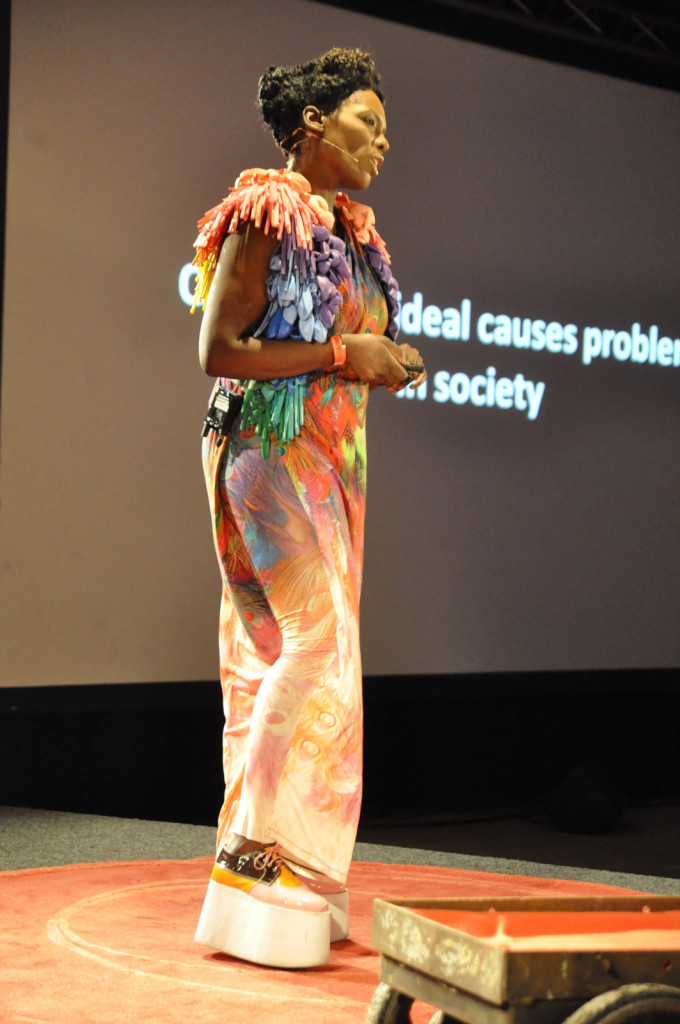 Frolicious: There have been some significant developments in the fashion industry since African fabrics and fashion are no longer only seen as "traditional clothes". Do you think this is just a temporary trend or something that can be mainstreamed into the fashion industry?
Janice Deul: Africa style is here to stay. Whether it is the fabrics, the prints, the colour combo's or the way we wear it. I recently wrote an article on this subject; it has been published in several Dutch newspapers. It has taken a while, but thanks to the Internet and social media Western world now knows that Africa has a booming fashion industry and that African couture is conquering the fashion world. I don't see this as a trend. It is going to be a classic. Like jeans, animal print or whatever. As Irene Hin, Dutch/Ghanaian fashion entrepreneur and founder of www.lady-africa.com, stated: "One day you wear a little black dress or something from H&M, the other day you choose a peplum top with print pants in Africa style." Diversity. Love it. World-known fabric manufacturer Vlisco, whose designs I adore, does a great job on this. Do you know they are from The Netherlands?
Frolicious: Do you see any race issues in the fashion industry (catwalk or magazines)?    
Janice Deul: Hell yeah. Unfortunately. You barely ever see black models on the cover of Dutch magazines. Due to the old belief that 'black doesn't sell'. Publishers and editors are afraid that the main public doesn't want to see a black model on their fave mag. But how do they know, because the hardly ever try? They also say that it is difficult to find top-notch black models. Black models may be harder to find indeed because the bureaus don't accept them. Saying: we have already one black model, that is enough. A pity and a shame. There is so much potential. Just go outside and see. There need to be more diversity in lifestyle magazines and on catwalk. To show the world, and young black girls, that dark skin is beautiful and stylish too. And that black girls and women do have the option to be in fashion, or to become a pilot or an engineer. We have to show these possibility models. You can't be what you can't see. MOVIE: http://youcantbewhatyoucantsee.com
Frolicious: Do you think that there is anything that we as consumer can do to change it?
Janice Deul: Yes, we need to address the lifestyle magazines and tell them we want to see more black and coloured models. And topics too. Like black beauty & hair editorials et cetera. And when one of those magazines has a dark model on the cover we need to buy this issue, just to show we appreciate it. Personally I am on a diversity crusade via Twitter and Facebook. Feel free to join in. Because we need to be seen too. Goes without saying that the same goes for Asian and plus size models. It's all
about diversity.
Frolicious: Where do you see the fashion industry in 5 years regarding African influences and black models?    
Janice Deul: I hope things are better in 5 years and I am sure the will we. We already see that concepts as 'beauty' and 'glamour' have a broadened definition right now. Take Lupita Nyong'o for instance: typically African with short, natural hair. And according to People Magazine the most beautiful woman in the world. This would not have been possible some years ago. And also more and more high end labels have black or coloured ambassadors at this moment: Lupita again for MiuMiu and Lancôme, Alicia Keyes for Givenchy, Jourdan Dunn for Burberry, Malaika Firth for Prada. So we are getting there. Slowly but secure. I hope.
Frolicious: What advice do you have for aspiring fashion editors?  
Janice Deul: These times are great for newcomers. Just start a blog, find something that is totally you, and focus on that. Read a lot of other lifestyle blogs, and magazines. And visit museum and theatre. Fashion is not only about fashion, it's about art, culture and technique too (take for instance the 3d print technique, that allows designers to make beautiful innovating things). Then go and find yourself an intern ship. Don't focus on money (that will come later) but on learning and knowledge. Changes are there. Grab them and conqueror the world. May the fashion force be with you.