I found Chillipeppa on etsy while I was looking for some African inspired home decoration items. In my last flat I had the typical African pictures showing elephants and lions or a carved mask. Don't get me wrong, I like still like them, however I needed a change. So I did a bit internet research to get inspired.
I learned that African fabrics are used for a variety of decorating accessories such as bedspreads, pillows and many more. In the following weeks, I will post different companies who are selling beautiful African home accessoires. Maybe you will find a piece that would fit nicely with your home's decor.
Introducing "Chillipeppa" (African Wax Quilts)
Frolicious: How you started?
Chillipeppa: I have loved to create all my life, my Mum has always sewn and we would often go fabric shopping together when I was small to pick out something she could make into clothes for me. I caught the crafting bug but it wasn't until I owned my own home and had my daughter that I started creating home décor items, at first just to feather my own nest, but friends and family encouraged me to share my work and it wasn't long before I began to sell on Etsy.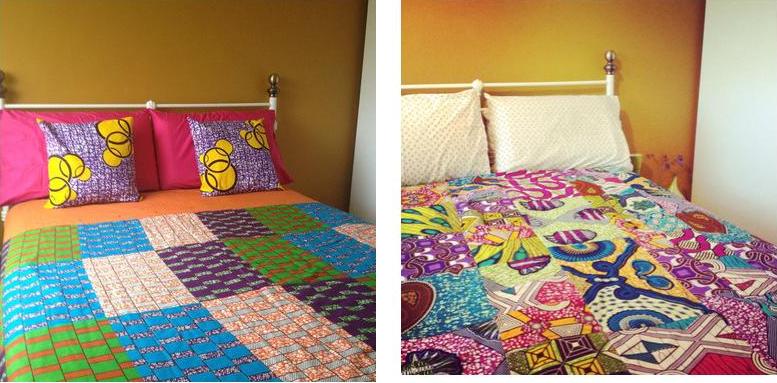 Frolicious: What inspires you?
Chillipeppa: I discovered African wax print quite by accident, I had gone to my local market to see if I could find some fabric for a project when a bright covered stall stacked to the roof caught my eye. In awe of the crazy fabrics with unusual objects printed on them I was in heaven and I left with as much as I could carry. I haven't looked back since and it has changed the look of my Etsy shop Chillipeppa drastically. Now the only other prints I buy are vintage prints I find at markets, I love to give old textiles a second chance. After bringing them home I put them in my studio along side my wax prints, waiting for the perfect African print to pair it with. Sometimes, the best combinations of wax prints comes from pulling bolts off my shelves and mixing them around, much like a painter would play with paint on a pallet.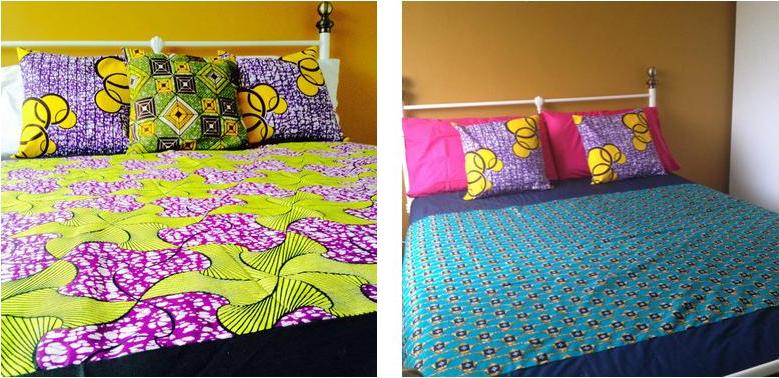 Frolicious: Do you think African Wax is just a trend?
Chillipeppa: I don't believe African wax print is a just a trend, I have seen its popularity grow over many years now, loved by people from all over the world, it's not hard to see why. We all need a little fun injected into our lives and with African wax applied to our home décor we can do just that. That Grey sofa we bought when Grey was all the rage gets a new lease of life with a vibrant throw or cushion. I hope that African wax gets the attention it deserves and its continues to to gain in popularity
More Chillipeppa Items:
I like the pieces of Chillipeppa. They are colourful, fun and easy to integrate. Chillipeppa can also make you a beautiful quilt in fabrics of your choice to the dimensions you need. What I also like is that she adds a fleece inner so it is a good weight and will keep you really warm in winter. If you visit her Shop on Etsy you will find wide range of products. Her ideas how to use African prints to highlight an accessoire or to create something new are great.
What do you think of Chillipeppa's home decor accessoires?
Explore Chillipeppa here: