Shea Nut Oil
Have you heard of Shea Nut Oil? No? Say good-bye to dull hair and dry skin. Shea nut oil is extracted directly from the nuts of the shea tree. It is created during the production of shea butter from cold pressing the nuts of the shea tree. Try shea nut oil if you have the feeling that shea butter is too heavy for you. Just read my blog post to learn why you should try shea nut oil for hair and skin.
Difference between shea nut oil and shea butter
Shea oil remains liquid at 20˚C. Here are some results if you compare the fatty acids of shea nut oil and shea butter:
5% palmitic acid – shea butter has 4%
27% stearic acid – shea butter has 42%
57% oleic acid – shea butter has 45%
9% linoleic acid – shea butter has 6%
Referring to the figures this means that shea oil might be more moisturizing for our hair and skin, thanks to the oleic acid. Furthermore, the level of linoleic acids stimulates hair growth, controls and helps scalp and skin conditions. In addition to this, it also controls water loss in your hair. (source: swiftcraftymonkey)
15 benefits of Shea Nut Oil for hair and skin
Shea Nut Oil is a great moisturizer for hair and skin.I have seen two versions – one that is a medium to heavy liquid oil and another that is quite a heavy liquid oil with a creamy colour. Here are some benefits:
Shea nut oil is rich in Vitamin E
Shea nut oil is rich in fatty acids and minerals
Prevents dry hair and skin
Shea nut oil is able to soften your hair
It is a great conditioner
Shea nut oil will strengthen your hair to improve hair growth
Great oil for hot oil treatment
It softens brittle and dry cuticles
You can use it as a daily moisturizer
Apply it on your ends to prevent hair breakage
It contains antifungal and antibacterial properties
Shea nut oil gives the hair freshness, brilliance and luster
You can massage your scalp with shea nut oil to increase blood circulation
A little shea nut oil goes a long way
It absorbs quickly
How to use shea nut oil for hair
Apply shea nut oil on damp hair. Massage it on your scalp and wrap your head in a hot towel for 20 to 30 minutes before washing your hair. You can also apply a few drops of shea nut oil on your hair before styling. Furthermore, you can add some drops of shea nut oil into your deep conditioning mix.
Conclusion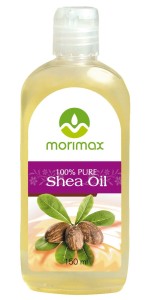 I love shea nut oil. The benefits of shea nut oil for hair and skin are great. I have been using the shea nut oil of Morimax. It gives you all of the moisturizing benefits of shea butter without the need to melt it down. If you don't like the heaviness of shea butter then shea nut oil is a great alternative as it feels lighter. However, take into consideration that it has a shorter shelf life than shea butter. Click here to read the benefits of raw shea butter.
Have you ever used Shea Nut Oil? How did it work for you?
Please leave your comments below.
Note: This post contains a affiliate link, which means that I earn a small commission from sales.