Are you dealing with single strand knots and constantly dry hair? After my last post about "5 Easy Ways to Build a Hair Care Routine" I got a lot of emails where I was asked which products I am using to moisturize my hair or to get rid of single strand knots. In my opinion there are no absolute product brands that you must have, but there are some products you should give a try. Today, I am doing a review about the raw Bio-Sheabutter by Jislaine. For your info: This is not a sponsored post.
Product Review – Raw Bio-Sheabutter by Jislaine
Do you remember my post how Raw Shea Butter Benefits for Hair Growth? 3 months ago, I found the best shea butter I have ever used on my hair in a beauty store by accident in Hamburg (Germany). The funny thing is that I was not even looking for it. Actually, the product claim says it is for dry skin but I used it on my hair.
Product Name: Bio-Sheabutter 100 % pur – unbehandelt – pflegt trockene Haut (English: pure – raw – for dry skin)
Price: 14,95 €
Size: 100 g
Ingredients
Butyrospermum Parkii Butter* (Shea butter*)
*100 % organic and certified by Ecocert
How I Use it:
As mentioned before, this is a skin care product. However, I wanted to try this on my texture.
In the morning:
I spritz my hair with water
I distribute a very small amount of shea butter on my head. I really concentrated on my ends as they are the oldest part of our hair.
You can tell that my hair was getting immediately soft. I have never seen a product doing this to my super kinky hair before. In the evening I do the same. I also tried the LOC method to see how my hair would feel the next day. My hair felt moisturized and soft but not drenched.
Before using the raw Bio-Sheabutter I was losing a lot of hair due to dryness, breakage and single strand knots. Now, I am losing much less hair. You can see the difference on the first image above. Below you can see how much I use for my entire head. In addition to this, you can also see which technique I use to make sure that the product is on every single hair. I wanted to show you a full container but as you can see I have used it all. The color is yellowish and it smells like raw shea butter. Nothing fancy that means, no extra fragrances.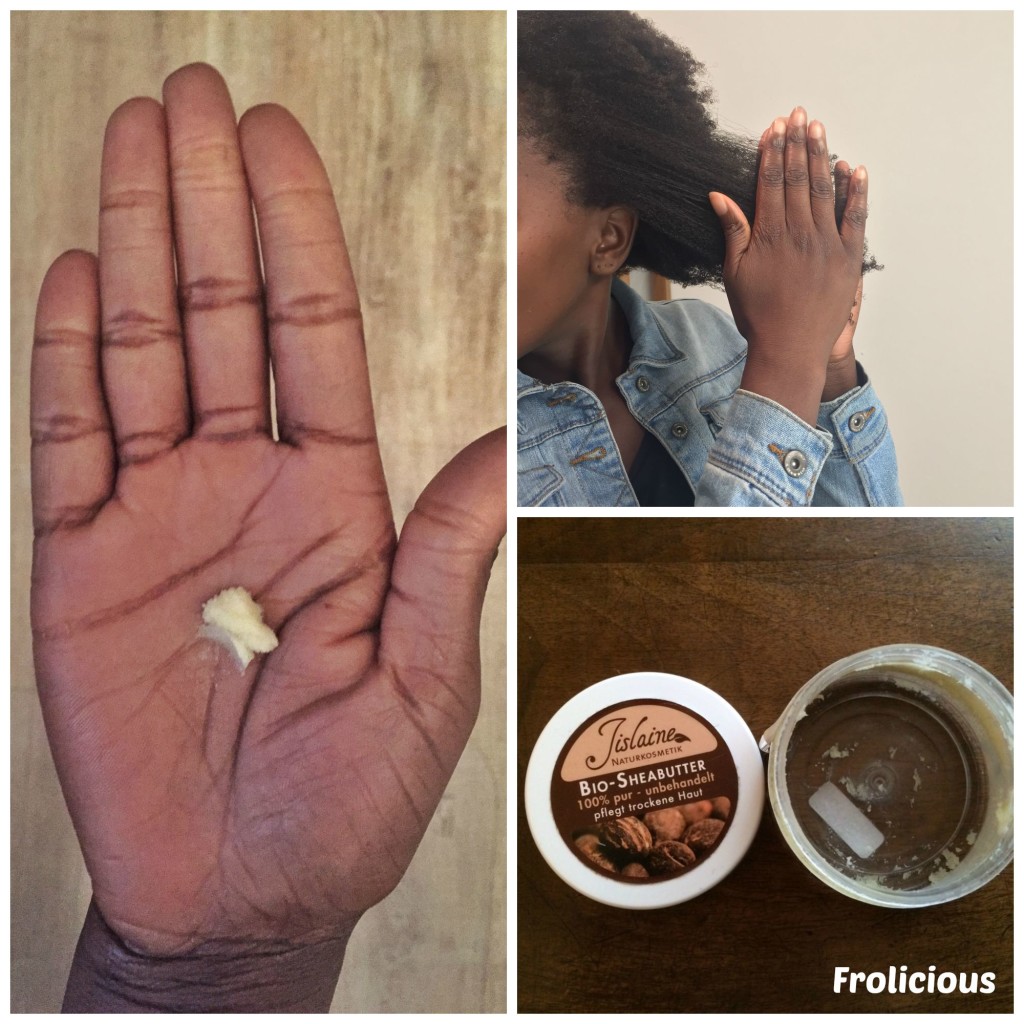 Would I Recommend This?
Yes, Yes, Yes! I love the fact that the raw Bio-Sheabutter by Jislaine is 100 % pure and from Ghana. In addition to this, it has an official bio certificate.
I have also tried it on my skin and it was okay but I think it is too heavy for me now during summer time. I will use it again in winter to see how my skin likes it. Okay so, if you have dry hair, single strand knots and breakage then you should try this product. Please just take into consideration every hair is different.
What is your biggest challenge? Have you tried raw Bio-Sheabutter?
Hit the like button – Leave a comment – Share this review with anyone you think will get value from it.
Share you thoughts and questions. I am here to assist you. Subscribe to our newsletter and get a Free Ebook on "Hair Porosity Test" or win a Giveaway "The Science of Black Hair".
More info:
Jislaine: www.jislaine.de
Note: I'll say it again: This is NOT a sponsored post. I am not being paid by Jislaine or anyone else to write about their raw shea butter. It just happen that I really like this product after using it for a while. I only recommend stuff that I love.