Hey Frolicious Beauties! Did you know that onion juice increases healthy hair growth? I am in the middle of a huge set back. Okay I must admit that I was more focusing on other things than on my hair. One day, I was running my fingers through my hair and noticed some breakage along my crown and along my edges. Well, I know that there are foods for hair growth however I did not thought about onions. For me it is now time to start paying more attention to my hair. I am saying hello to natural remedies. I am going to make the most of what mother nature has to offer.
As many Frolicious Beauties, I am now focusing on healthy hair and I am going to try my best to share my experiences with you. However, I am not sure how onion juice increases healthy hair growth. To be honest with you, I would like to see the face my boyfriend would made, when he sees me, how I chop an onion and add the onion juice on my hair instead of making dinner. The imagination makes me laugh out loud. Due to my researches it seems that onion juices increases healthy hair growth.
Onion Juice Increases Healthy Hair Growth
So before you use all the onions for your dinner, better save some for your hair and let me explain how our hair grows. Our hair is made up of a protein called keratin that is produced in the hair follicles. As follicles produce new hair cells, old cells are being pushed out through the surface of the skin at the rate of about six inches a year. The hair that you can see is actually a string of dead keratin cells. We loses up to 100 hair strands a day. But how does onion juices increases healthy hair growth?
The juice of an onion has been used for centuries to help with thinning hair. It encourages circulation around the hair follicles. Onion juice also regenerate hair follicles as well. This remedy is regarded as one of most effective and oldest ones. The secret is – that onion contains sulphur (sulfur), which is known to improve hair growth. Sulfur is an essential element for all life, and is widely used in biochemical processes.
How to Make Onion Juice
Lets make fresh onion juice now.
Take two to four onions
Peel the onions, cut them into slices
Use a juicer or a blender to get out the juice
You can also purchase onion juice online, if you don't have the time to make it. Just keep in mind that fresh onion juice is better than the preserved one. If you purchase it by using my link, I will get a small commission. Thank you in advance.

How to Apply the Onion Juice on your Hair
Part your hair in 4 or more sections and apply it on your scalp. Let it sit for about 15-20 minutes and then rinse it off. Wash your hair with a sulfate-free shampoo. In order to stimulate your follicles try this every other day for a month. They say you will see a difference.
30 DAY Grow Your Hair Onion Juice Challenge
I am super excited! I decided to do a challenge to grow my hair back. Are you joining me?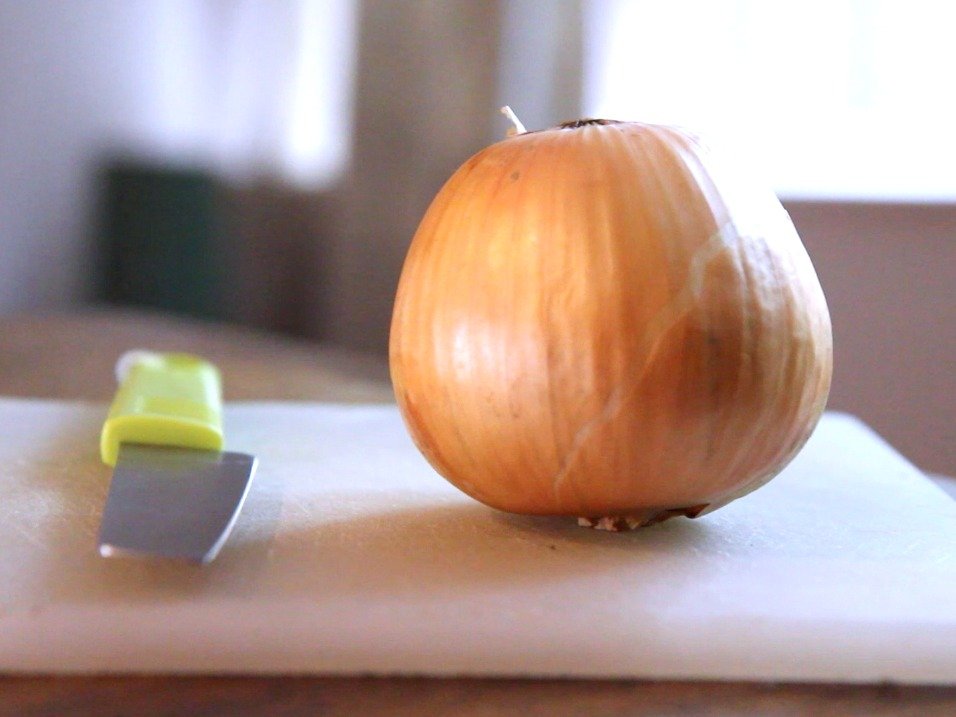 It will start on Monday 14th of March until Thursday, 14 of April. Join me now and receive weekly information and recipes on how to include onion juice into your hair routine. Are you looking for a simple hair regime? Click here.
Rules
Sign up for the #GrowYourHairOJC newsletter – this is how you will get all information to this challenge
Post pictures of your activity at least once a week on social media by using the hashtag #GrowYourHairOJC
Drink at least 8 glasses of water
Eat healthy food and food that contains omega 3
Now that we all know that onion juice increases healthy hair growth, are you going to try it and join the challenge?

Sources: