Are you looking for the easiest routine to get rid of dry hair? I often get asked about my natural hair care routine, so I thought to write a blog post about it. My main focus is to keep my routine simple and to avoid dryness. Believe me I tried a lot and have made some mistakes during my natural hair journey. I remember the time when my hair was just dry and thin. In my last post I have talked about "How to keep your hair moisturized". You will see that my regime is the easiest routine to take care of your natural hair. Most of the time my hair is in a protective style and I try not to manipulate it very often. Please keep in mind that there is no technique that works for everyone. However, I hope that my natural hair routine will give you an idea or helpful tips.
Easiest Routine To Get Rid Of Dry Hair
First let me give you some information about my hair. I have afro textured, kinky, fine hair strands. I would consider myself my as 4c hair with some 4b areas. I trim my hair every now and then. My hair shrinks a lot. People sometimes ask me if I have cut my hair. But I am fine with that.
Night-time routine
I have a spritz bottle that contains: distilled water, leave in conditioner (Giovanni Direct Leave-In or Kinky-Curly Knot Today) and a some drops glycerin.
I spritz my hair with the mixture.
Then I do two strand twists. Before that: I cream the small section that I want to twist. Therefor I use: SheaMoisture curl enhancing smoothie, raw shea butter and my oil mixture (olive oil, a few drops castor oil and tea tree oil).
After I have finished twisting I use my facial steamer to make sure that the moisture get into my hair as I have low porosity hair. Read more about "Taking care of porosity hair". Knowing your hair porosity will help you a lot. If you have not done the test yet, take the hair porosity test here.
Sometimes, I do the LCO method and cover my hair with a plastic cap or I just wear a satin hair bonnet.
Morning routine
Most of the time my hair stays in a protective style as I don't have much time in the morning to style my hair. But there are also other days where I add some marley hair to rock an updo. I also like wearing an Afro puff.
I spritz my hair with my mixture.
The next steps are like in my evening routine:

SheaMoisture

curl enhancing smoothie, raw shea butter and my oil mixture.
Sometimes, I wear a headwrap or simply wear my hair out.
Wash Days
Usually, I wash my hair every 2 weeks. My hair need to be washed sooner if I have build up.
I pre-poo before washing my natural textured hair. My pre-poo mixture is: tap water and a cheap natural hair conditioner. I let it sit for 5-10 minutes and then rinse it out.
I wash my hair with

SheaMoisture Coconut & Hibiscus Curl & Shine Shampoo.

I continue with a conditioner "

SheaMoisture Coconut & Hibiscus Curl & Shine Conditioner".

I often let my hair air dry and then do my night-time routine.
I use to deep condition my hair every week but now I am doing it once in a month. My steps are:
Pre-Poo
Deep Condition
Conditioner
Air Dry
Night-time routine
Detangling
I only detangle my hair on wash days or dc days. Have you read my post about "4 steps you should know about detangling your hair? I do finger detangling although it is time consuming. I have learned that you will gain healthier hair, so my aim is to try this technique for 3 months to see a difference. I don't have a hair steamer but I love my facial steamer. It is a great tool to prepare my hair for detangling. It is much easier to detangle single strand knots. My hair feels super moisturized afterwards. In addition to this, it gives my hair a great definition and a shiny look.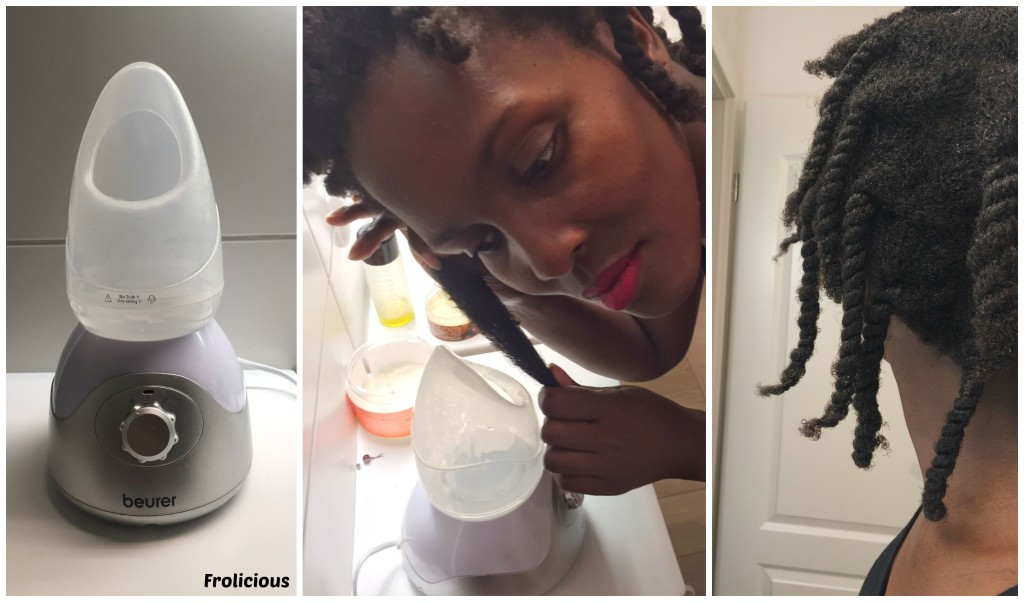 This my easiest routine to get rid of dry hair. It is quite simple. If you need help regarding building your own hair routine click on the following link 5 easy ways to build a hair care routine. Every hair is unique and only you can tell what you hair likes and what not. However, with some experimentations you will find out what works best for you.
What is your easiest routine to get rid of dry hair? Do you have any thoughts or tips to add?

Leave a comment – I'd love to hear form you. Share this post with anyone you think will get value from it. Subscribe to our newsletter and get a Free Ebook on "DIY – Avocado & Banana Hair Recipes".